How to do a Slime Color Run?
Adding slime stations to your next fun run will definitely bring joy and laughter for the participants getting slimed and the volunteers who get to slime them. Slime stations will turn a normal fun run into a slime filled color run! This is a fantastic fundraising idea for schools, churches and other groups and is bound to get people excited to join your fun run.
How to do a Slime Fun Run?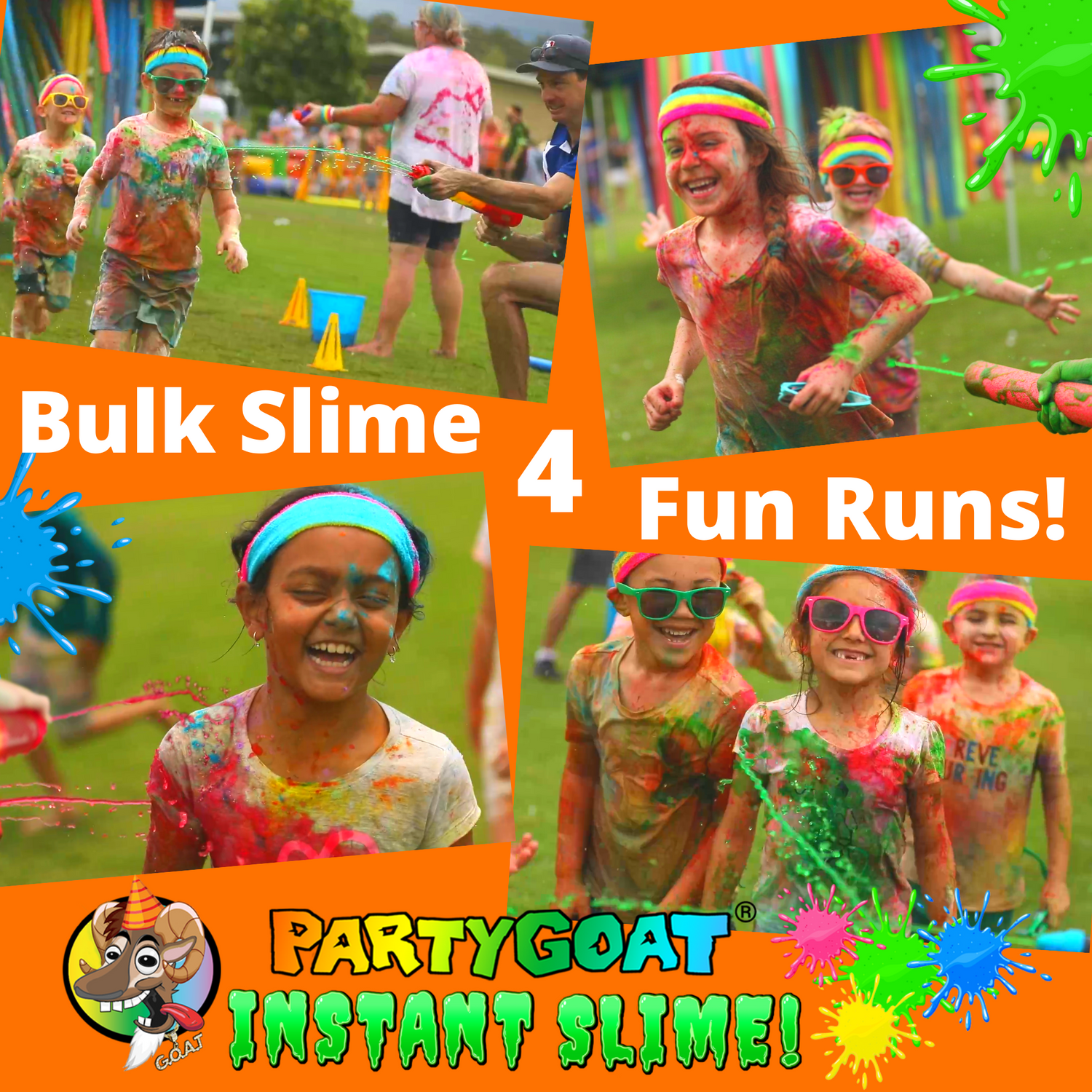 What is a Slime Color Run?
A slime fun run is a new and exciting alternative, or addition to, a color powder run. Sliming stations are usually setup in place of, or in between the colour powder stations.
Rather than throwing color powder at the runners, volunteers blast super colourful slime at the participants using large water squirters.
Party GOAT Instant Slime allows fun run organisers to make huge quantities of colorful slime by simply adding water to the slime powder.
Adding slime to a color powder run doubles the fun, creating a more exciting and memorable event for everyone involved.
What do you need to add Slime to your Color Run?
To add slime to your color fun run you need 4 items - Party GOAT Slime, Tubs, Water Blasters & Water. We will discuss each item below.
Instant Slime

Our Instant Slime Battle Pack (also called Fun Run Slime) makes 40 gallons (160L) of slime. It comes with 4 color sachets to make 10 gallons (40L) of each color of slime - green, yellow, pink and blue.

Our Slime Expansion Pack makes 20 gallons (80L) of slime. It contains 10 gallons (40L) of two new colors - orange and purple.

Single color slime packages are also available that make 25 gallons (95L) per pack. The single color packs are perfect for adding slime pool obstacles to your race.

Water Blasters

To spray the slime you will need to purchase water blaster for your volunteers. One of the best things about using Party GOAT Slime is that is does not require any special or expensive slime blaster guns. As shown in the videos on this page any of the suck and spray style water guns will work with our slime. Please note: we do not recommend water guns with canisters on the back, as they are often difficult to fill with slime and take too long to refill.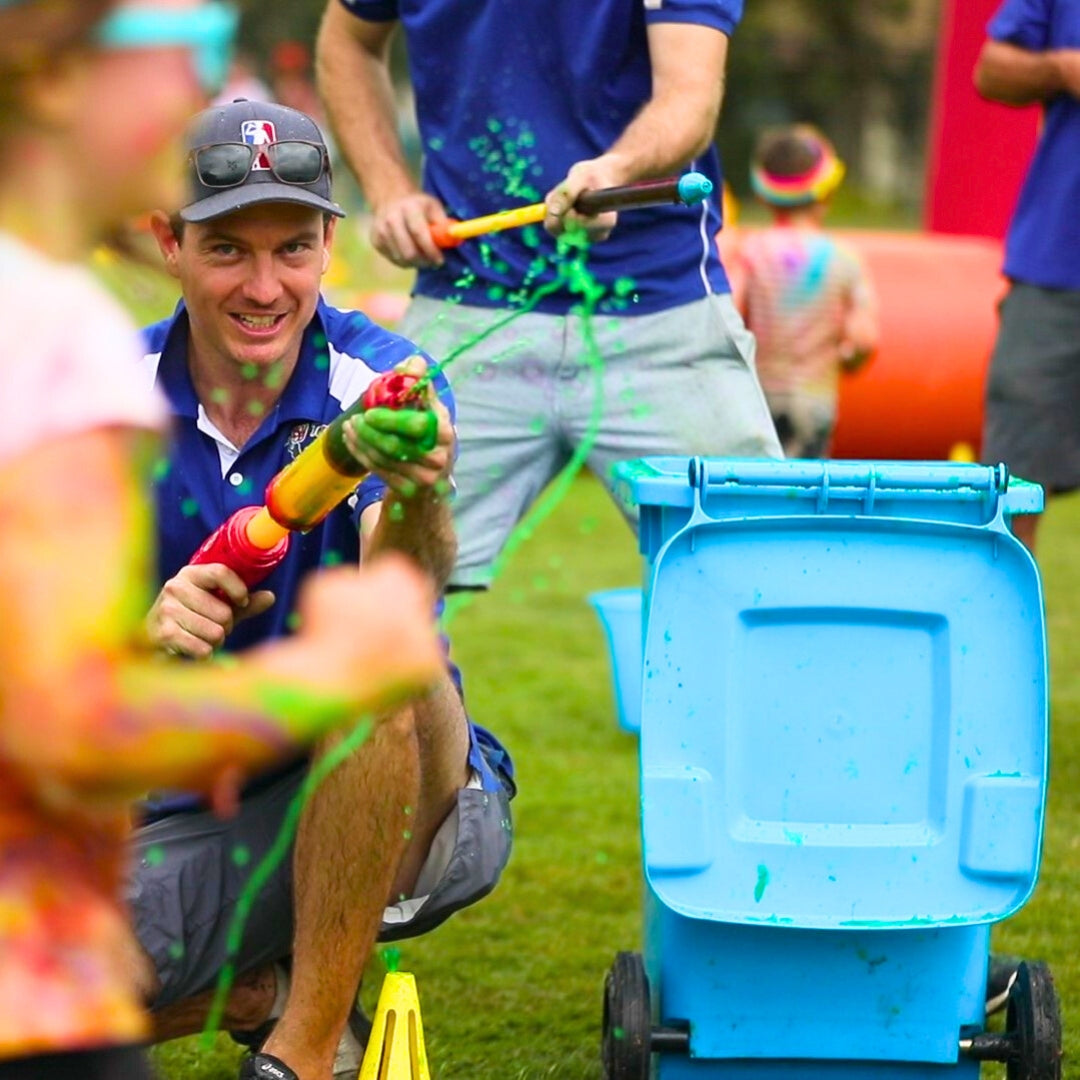 Large Tubs or Wheelie Bins & Water
To make up large quantities of slime you will need some large tubs or wheelie bins and access to water.
The best tubs or bins to use will be able to hold at least 10 gallons of water.
Keep in mind that once the water is added to the containers they will become quite heavy. If you plan to use tubs, place them along the track and then use long hoses to fill them with water in the position they will be used.
Alternatively if you have medium sized wheelie bins you can fill them up at the tap and then wheel them into position on the track.
You will want at least 2 tubs for each color of slime you purchase, so you can have at least one volunteer on each side of the track for each color.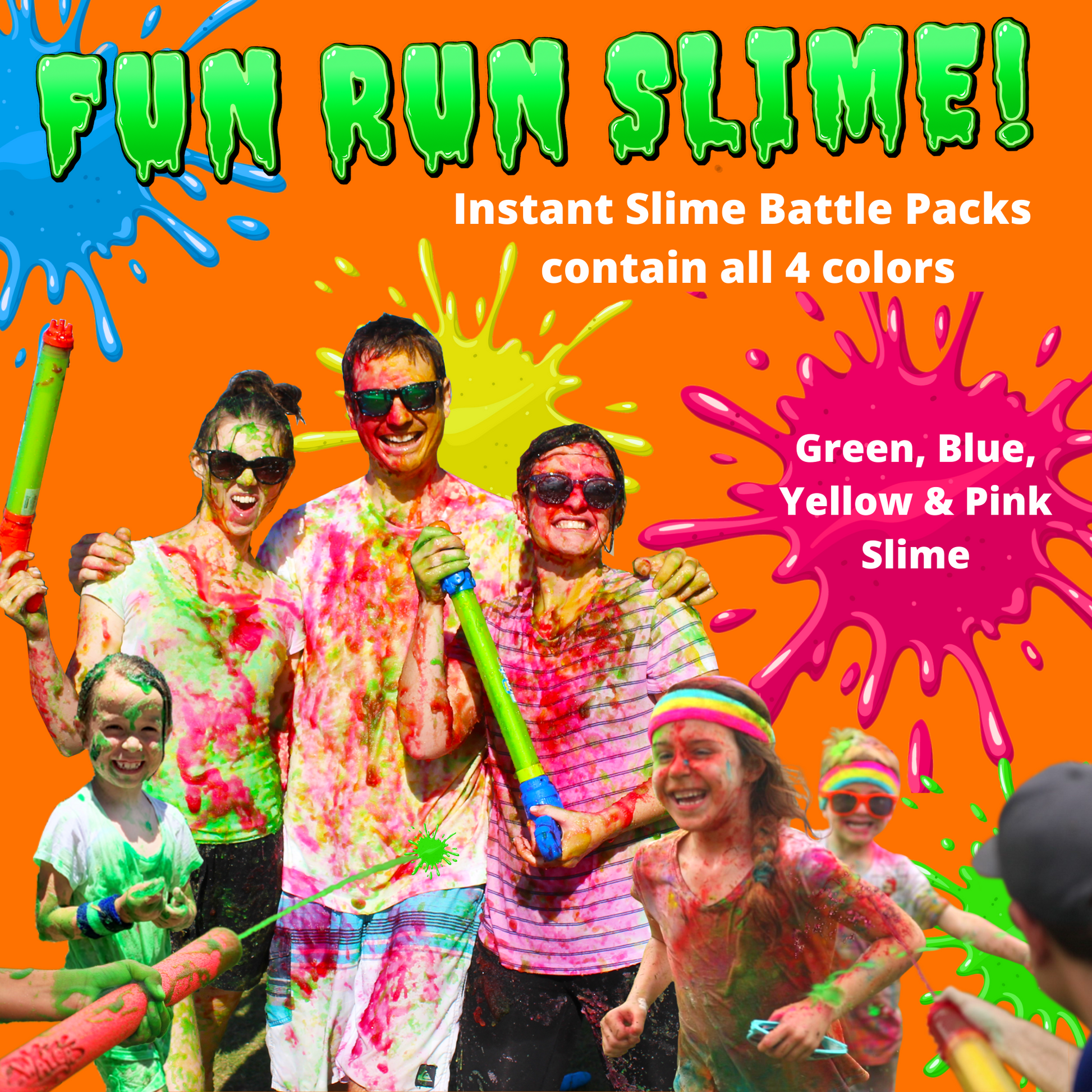 FUN RUN SLIME - 4 colors of Instant Slime for the best color runs
Regular price
$49.95 USD
Sale price
$34.99 USD
Unit price
per
Sale
Sold out
Share
View full details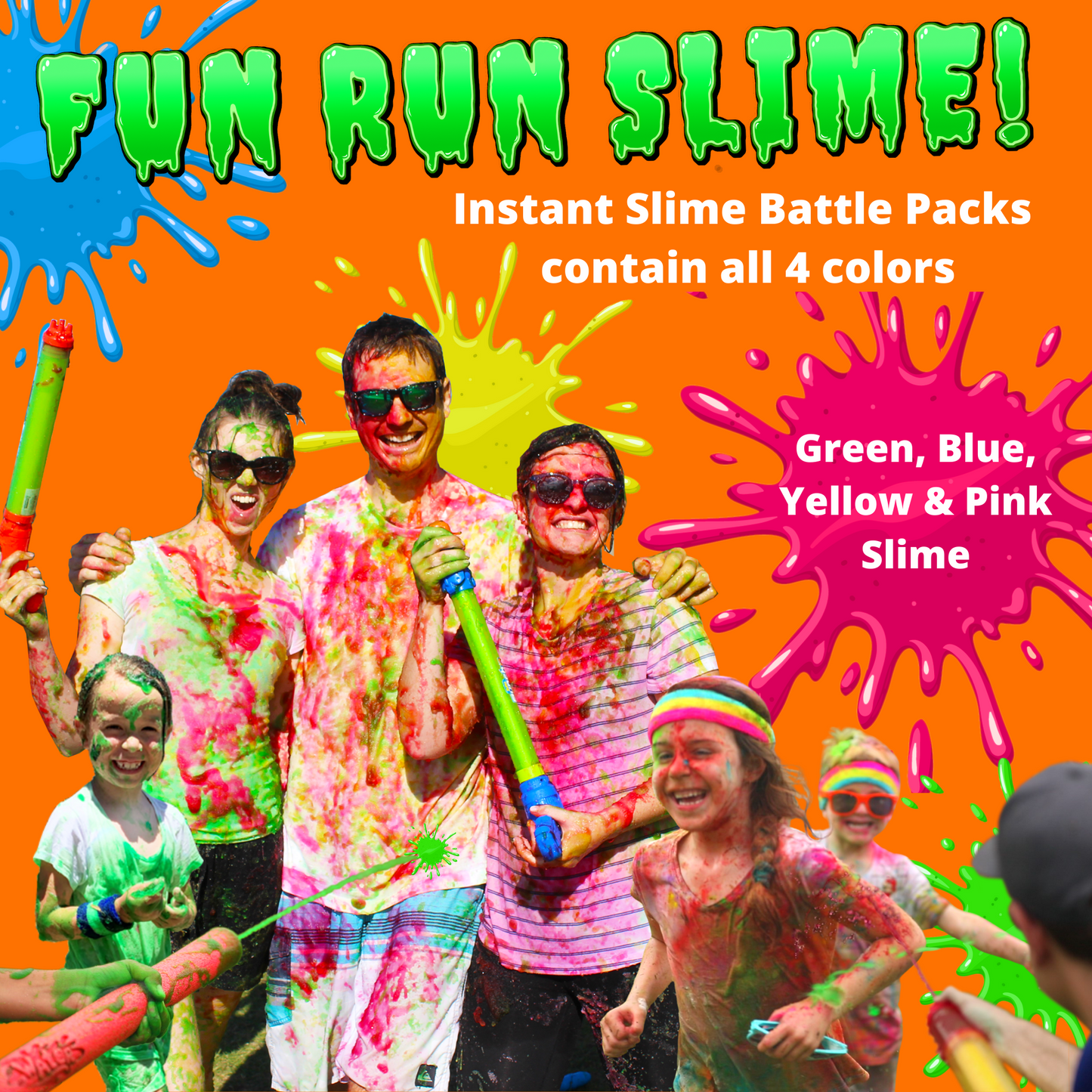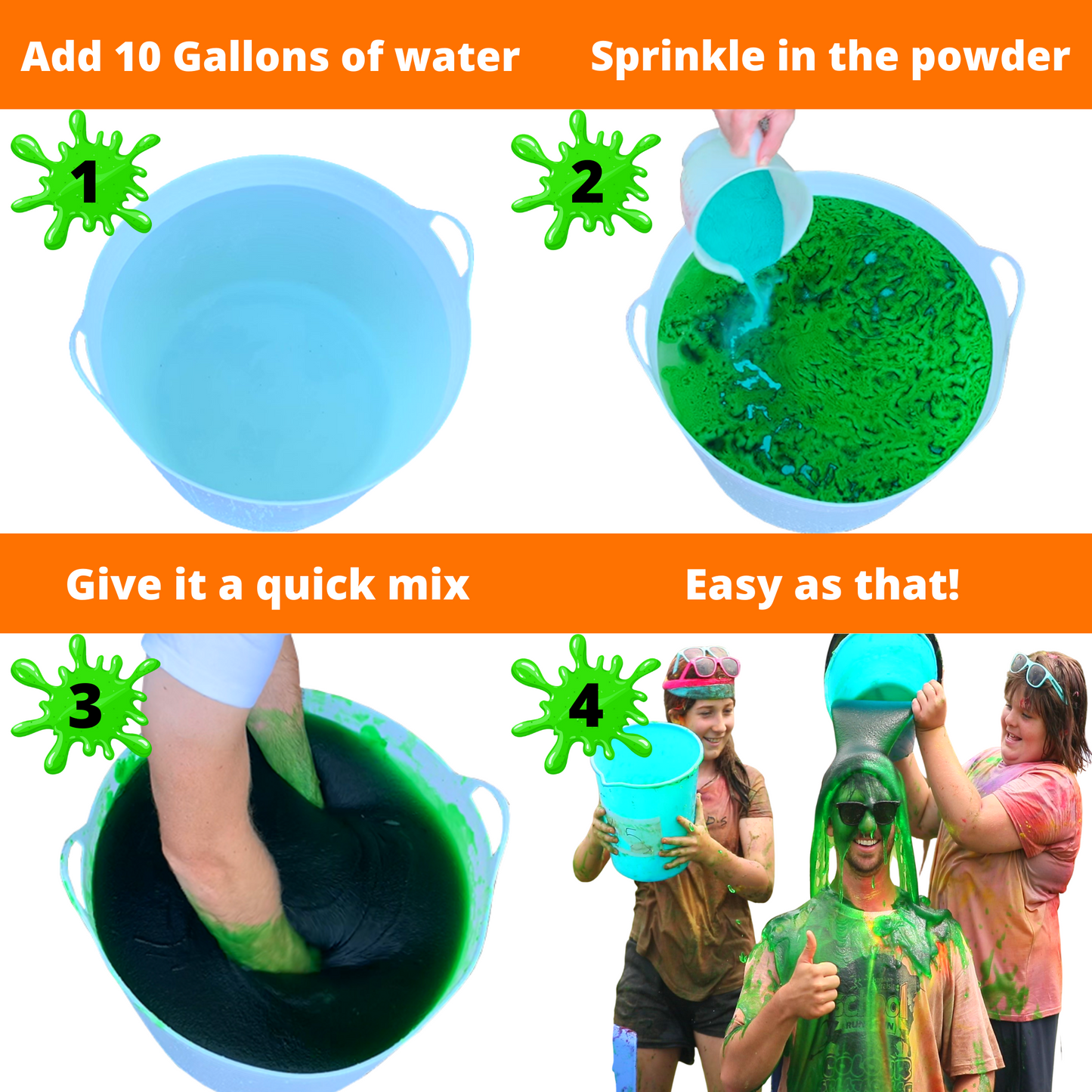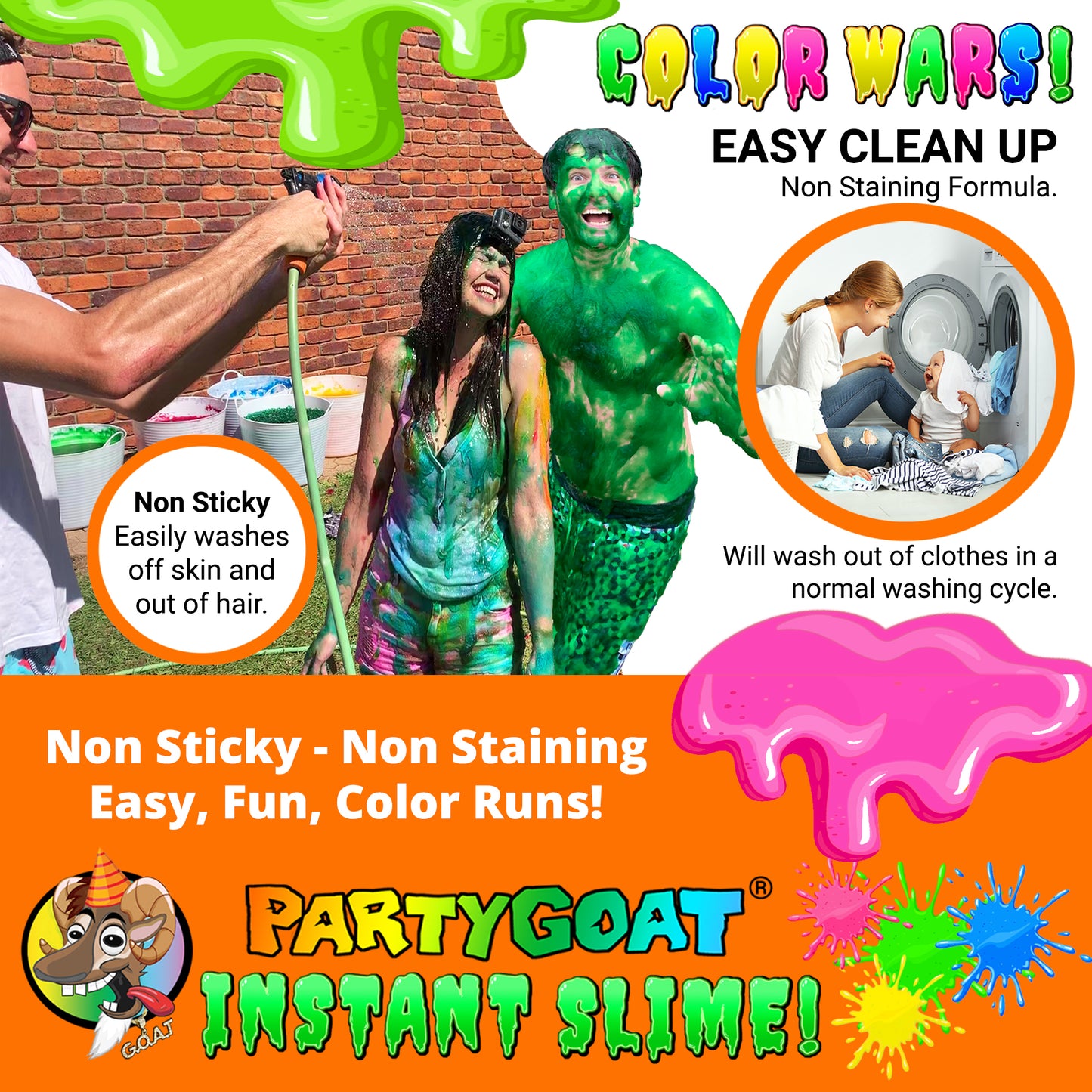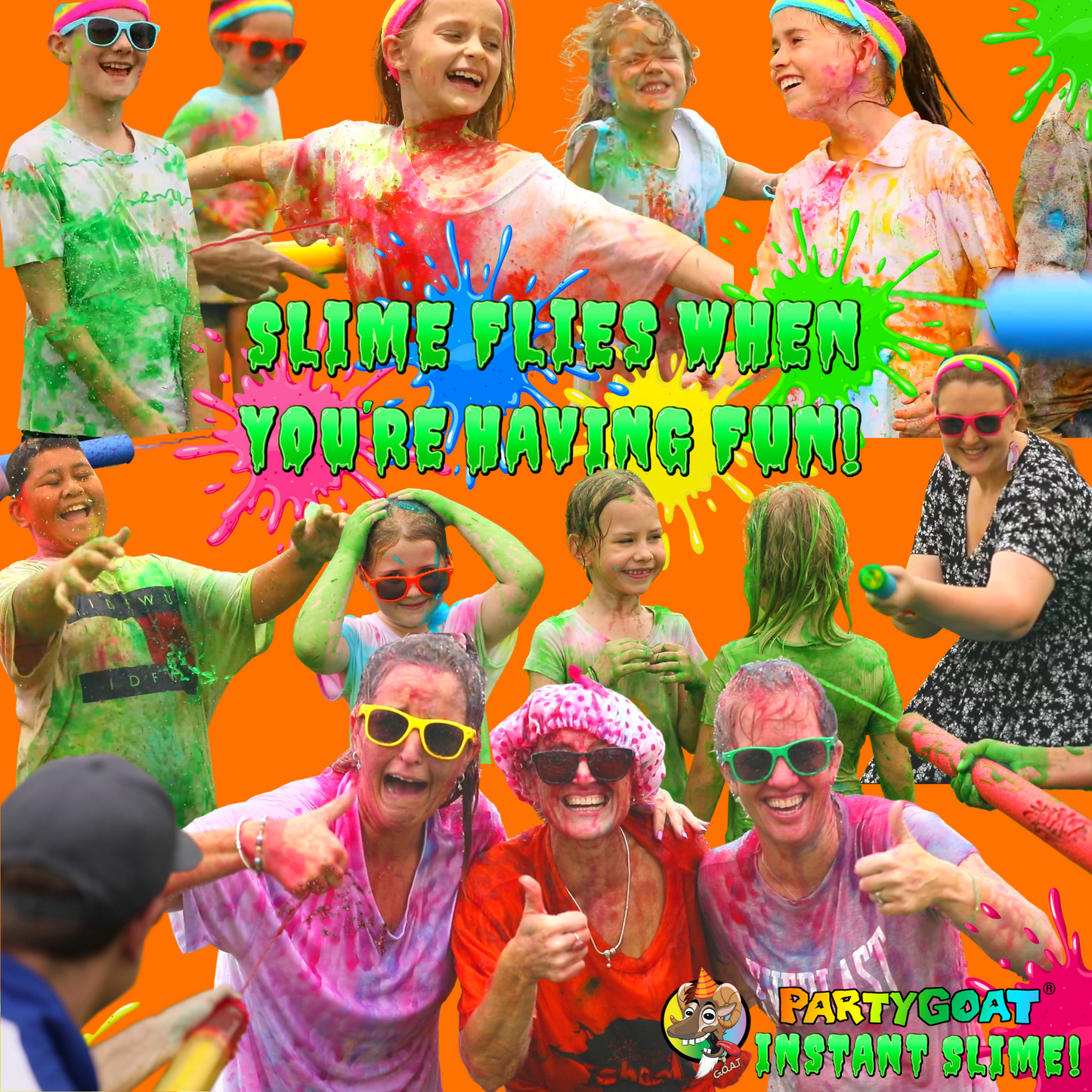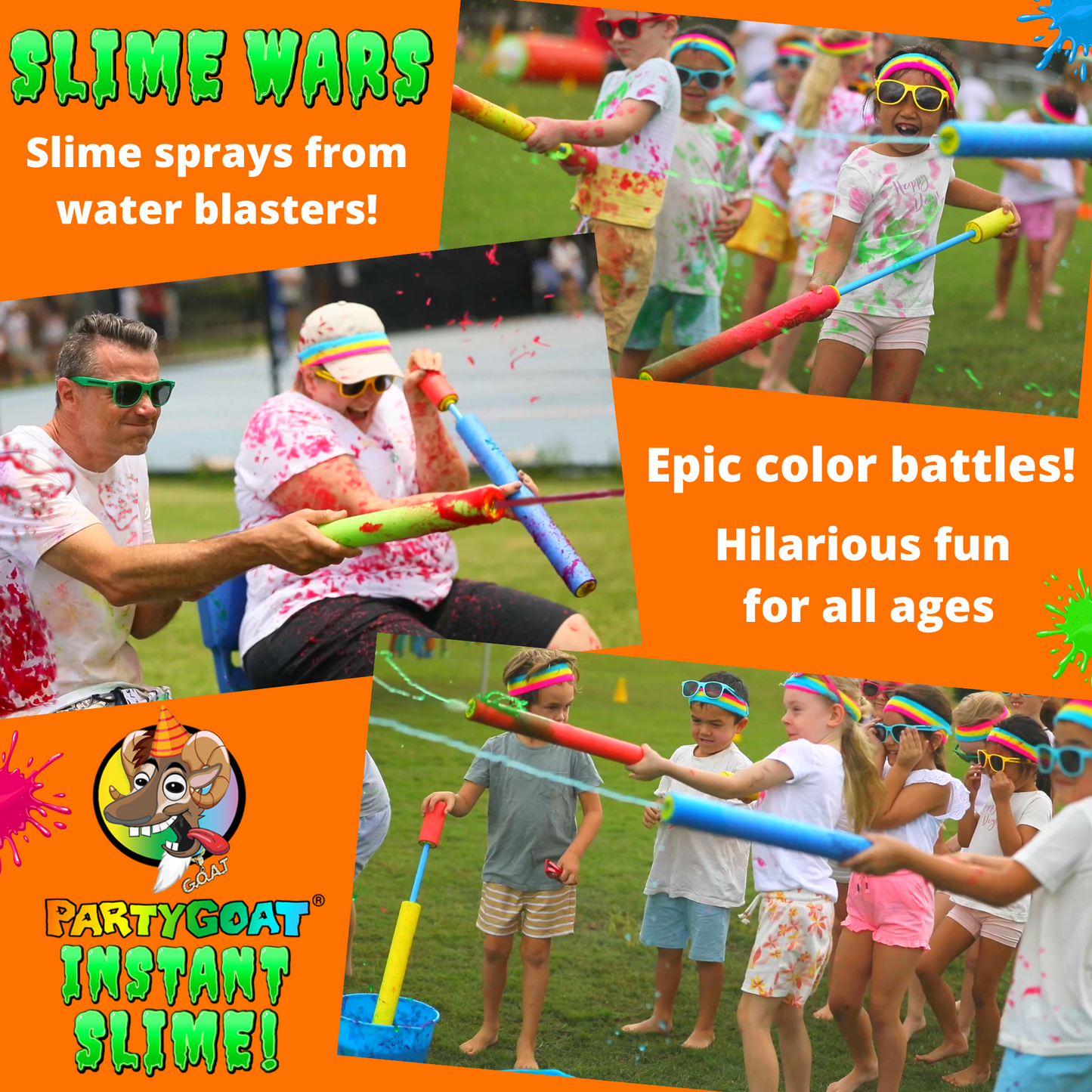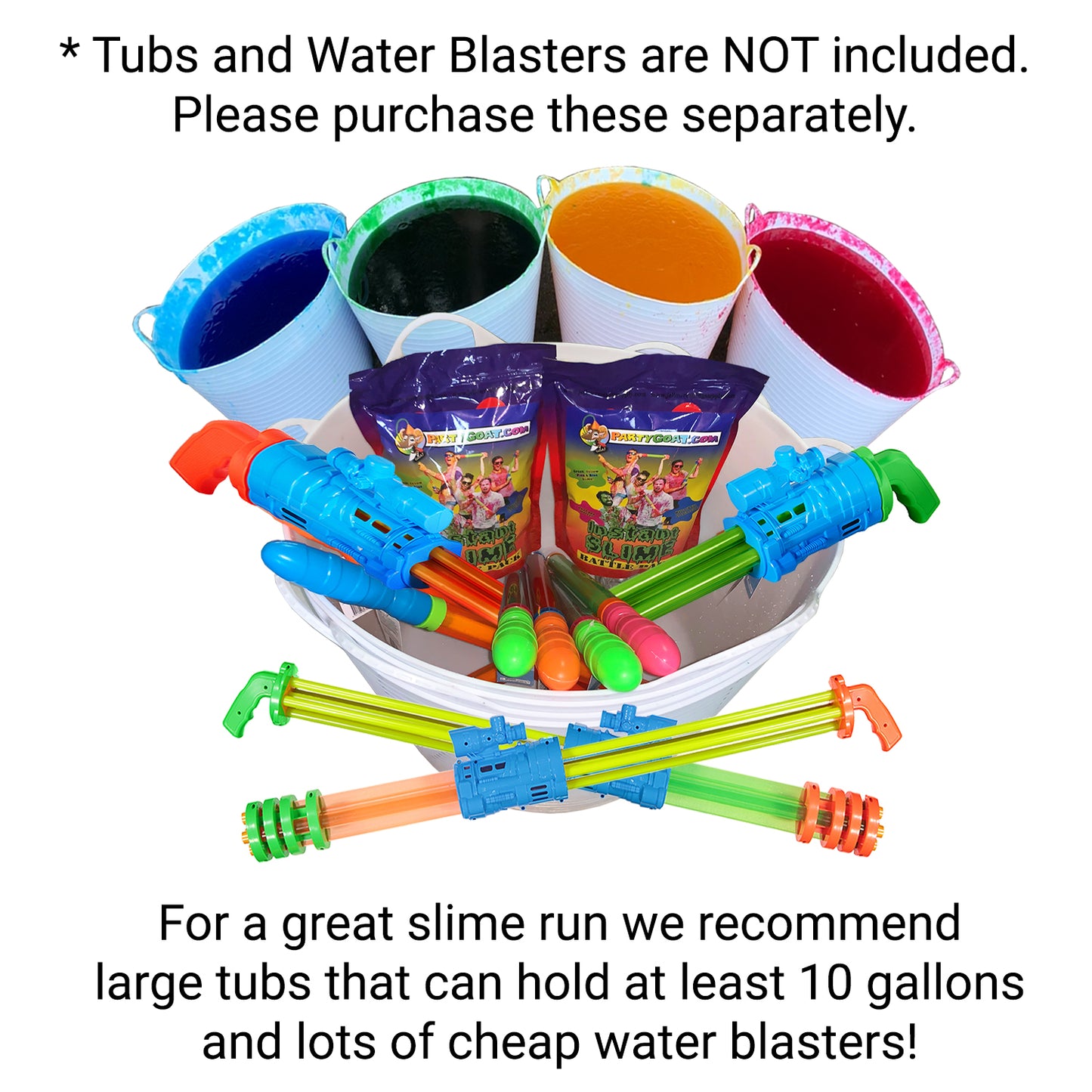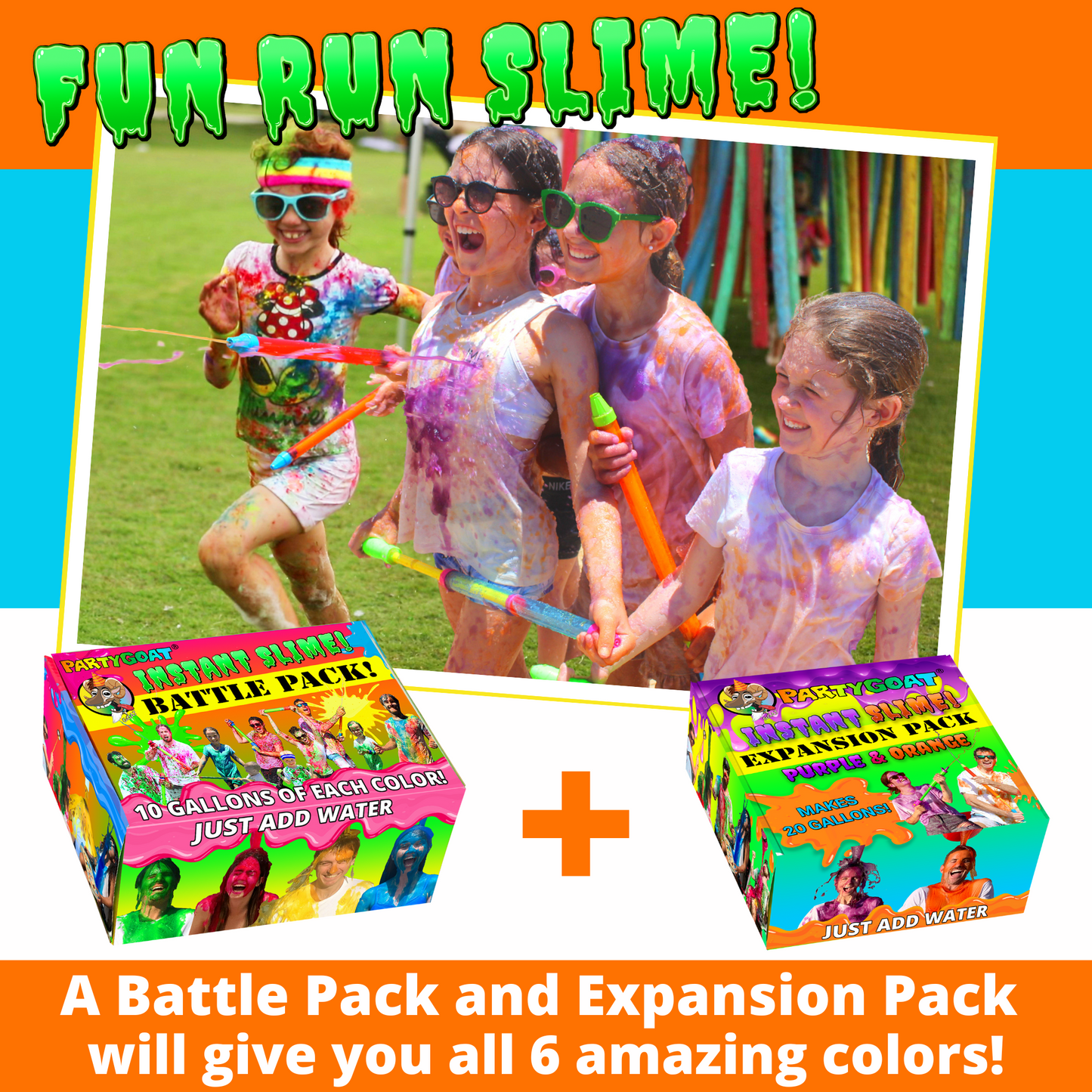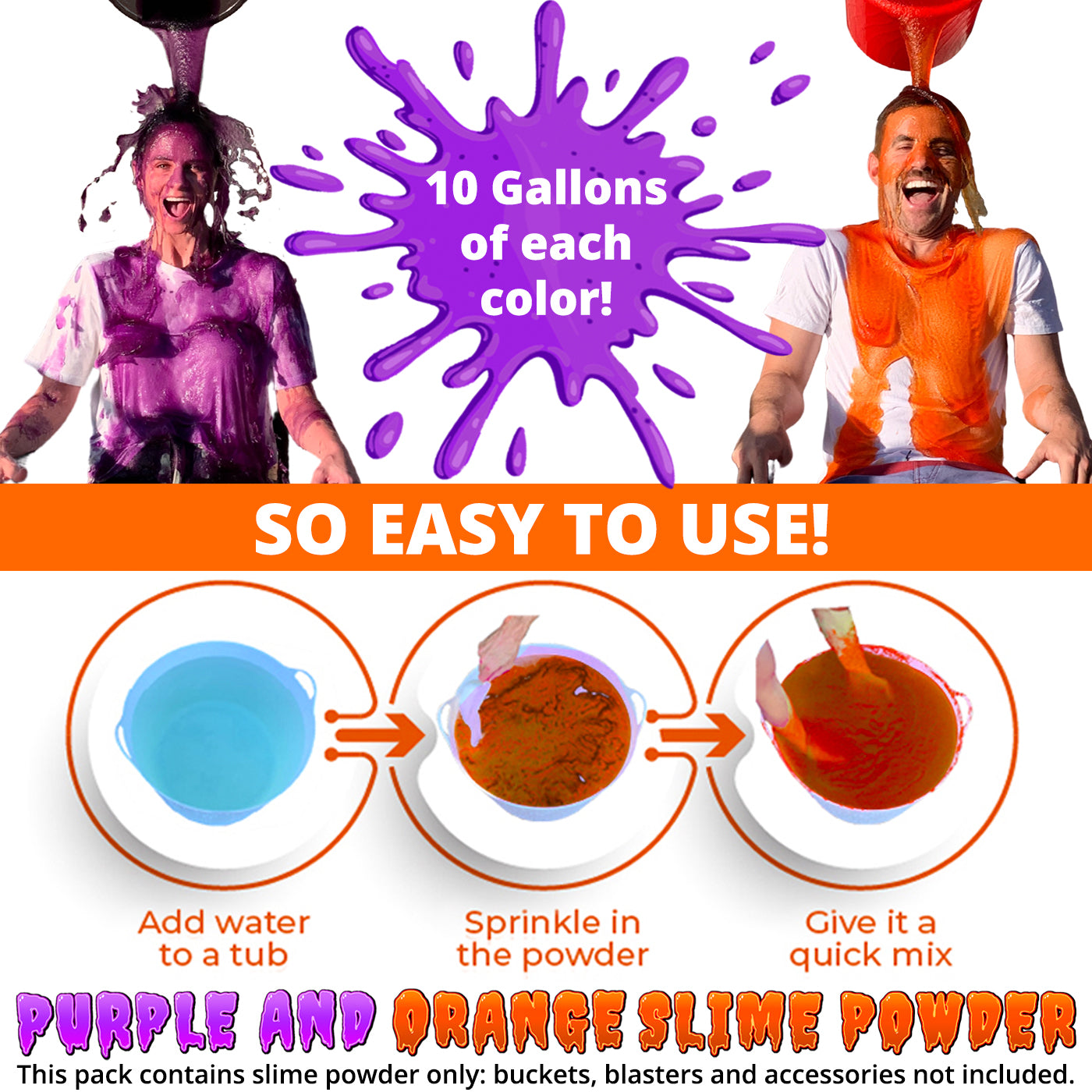 How much Slime do you need for a Slime Run?
This can vary depending on how many stations you want to have, how many laps of the course your participants will run, and how slimy you want the event to be.
As a starting point, work out how many participants you expect to have at your slime run and then allow for a minimum of 1/4 to 1/2 gallon of slime per participant (1 to 2L). 
Doing the math
The Instant Slime Battle Pack makes 40 gallons (160L).
Let's say you have 400 participants in the slime run.
400 x 1/4 gallon (1L) = 100 gallons (roughly 400L).
400 x 1/2 gallon (2L) = 200 gallons (roughly 800L).
You'd want to be somewhere in this range. For 400 participants we'd recommend at least 4 Instant Slime Battle Packs to give you 160 Gallons of Slime (640L).
If you want to add a slime pool obstacle or finish the event by sliming the volunteers or organisers then you will need extra slime. Click here to learn how to raise more money by sliming your teachers.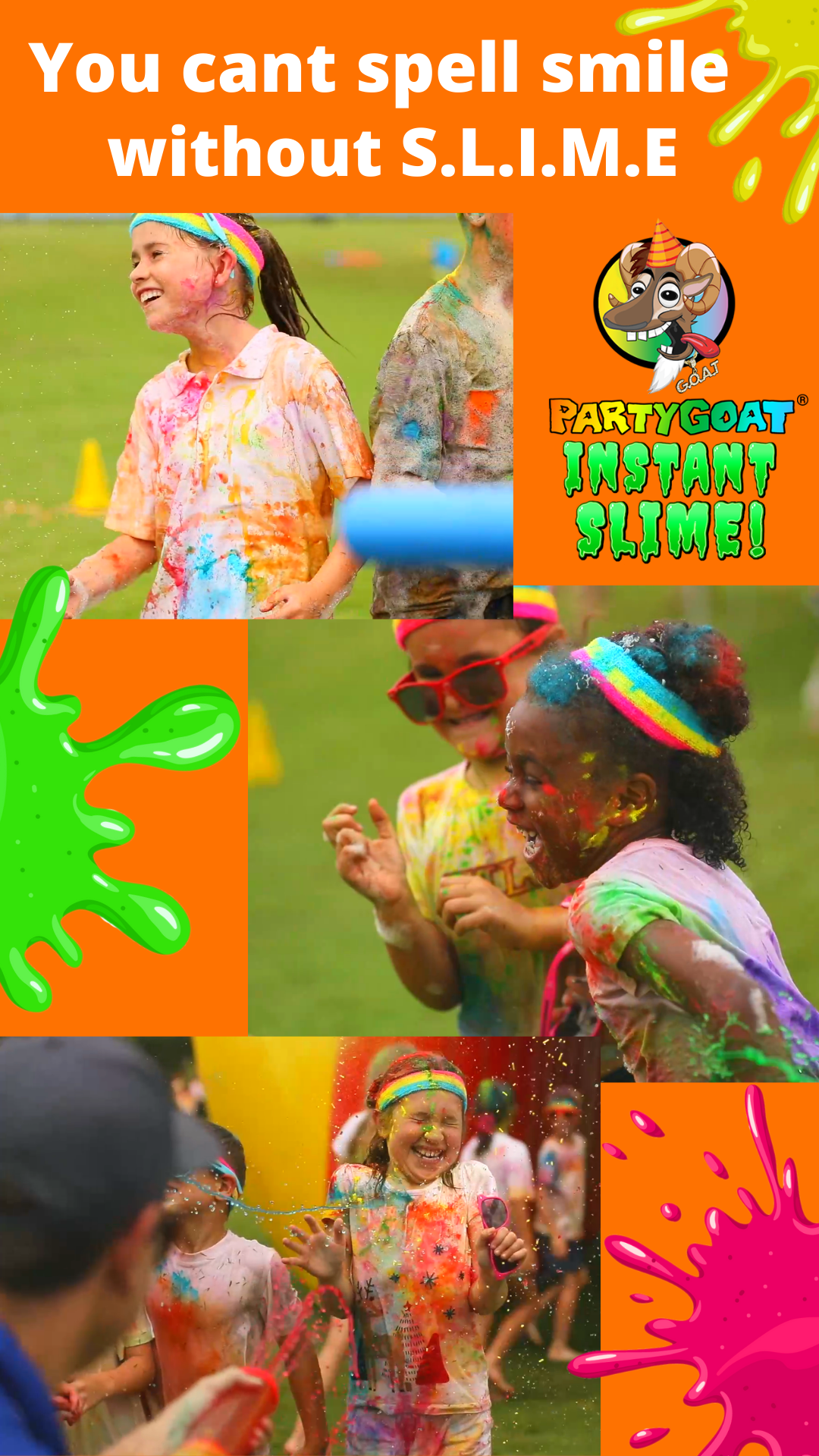 How many slime blasters do I need at each slime fun run station?
This will depend upon how many volunteers you can get to man the slime station. The more slime the better. The minimum would be one slime blaster per tub. Two slime blasters per tub would be ideal as one volunteer can reload while the other is sliming the runners. They are fairly inexpensive to buy.

It certainly isn't hard to find slime blaster volunteers as it is just as much fun for the people doing the sliming as it is for the runners being slimed.

You are best to get fit and active slimers that will make sure everyone gets slimed and has a great time.
How to make Slime for a Color Run
Party GOAT Instant Slime makes it so easy to make bulk slime for color run events, slime the principal fundraisers, slime pools, and many other slime games.

To make slime using a slime battle pack or slime expansion pack, simply fill your tub with 10 Gallons of water and then sprinkle in one of the slime sachets while stirring with your hand. It will instantly turn into a sludgy slime.

Each Instant Slime Battle Pack makes 10 gallons of each color. Green, Blue, Yellow & Pink. A Slime Expansion pack makes 10 gallons of purple and orange.
Clean up and safety
Party GOAT Slime is non toxic, biodegradable, hypoallergenic, gluten free, pet friendly and safe for kids. Unlike other slime products it does not contain borax or other harmful chemicals. Although not designed for consumption, swallowing mixed Party GOAT slime is not expected to cause any harmful reactions.
Party GOAT Slime is non staining, non sticky and easy to clean. Watch the video below for an easy clean up demonstration.
Click here for a copy of the Slime MSDS.
Safety tips
Always set up on grass and never on concrete.
Slime can get slippery when it is piled up thick on the ground. If you have a long day of sliming it can be beneficial to occasionally shift your slime station a few yards along the track to reduce slime build up in one section of the course.
Set up on a straight section of the course and never on a sharp bend.
Tell the volunteers to aim for the body and not the face of the participants.
If runners get slime in their eyes, rinse well with water.
Can I make Instant Slime the day before?
Making Instant Slime is very quick and easy. Adding and mixing the slime powder only takes a minute. The thing that takes time is filling the tubs or pools with water (especially if you have low water pressure). If you want to be prepared we usually recommend filling up the water the day before. Then on the morning of the event simply add the slime powder to get your desired consistency.
If you want to add the slime powder the day before this is fine, however it may not be quite as thick the following day. We suggest you reserve a small amount of powder in case it needs to be thickened up again before your event. Make sure that the tubs are covered to prevent evaporation and also dirt and leaves from blowing in.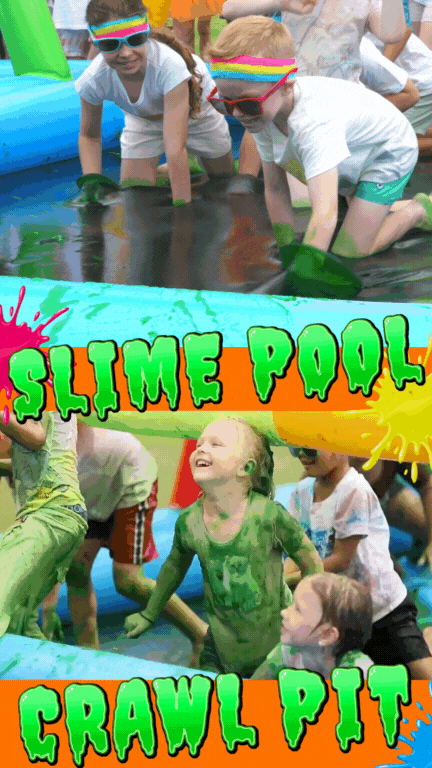 Slime Crawl Pool Obstacle
Fill a large pool with slime to make a hilarious fun run obstacle. Make your competitors get down low and crawl through the slippery, slimy, sludge and emerge looking like the hulk!
Buy Green Slime
Slime Testimonials
Worked great as part of our kids color run

"We made 8 bins of "squirtable slime" for adults to shoot at kids as they ran by. It was a blast!! The colors were bold, and it was slimy but washed off easily. One of my neighbors was really worried about her daughters hair and that wasn't an issue at all.

We didn't really measure, just kept adding water/slime until it felt right. It was easy to squirt with the $1 guns." Katie

Makes a Lot!

"I was skeptical that this small box of powder would really make 40 gallons of slime, but I ended up with quite a bit leftover after filling 2 baby pools and several buckets with slime. It's not the thick "play" slime, but more like a liquid-gel which is perfect for spraying/dumping on people, etc. I was also pleasantly surprised how easy it was to clean up. It easily rinsed off of the water guns and pool and washed out of clothing with no stains." K. Wilson

Awesome!

"We slimed our principal and this was amazing! It mixed up quickly and a little went a long way. Best part was it cleaned up just as fast and easily. The staff used water blasters to shoot them with slime and then we sat them in inflatable pools and poured it over them. The kids loved it and it was a great consistency. We have half of each pack leftover for another time. Highly recommend!" Emily
Other slime activities
Slime Fundraisers
More fun products and ideas