Regular price
$49.95 USD
Sale price
$34.99 USD
Unit price
per
Sale
Sold out
💚 INSTANT SLIME BATTLE PACKS, contain all 4 vibrant colors in one amazing package. Makes 10 GALLONS (38L) of each color slime! - Green, Pink, Yellow & Blue. Just Add Water! Free 2 to 5 day shipping on this item!
💙 NON-TOXIC, NON-STAINING, Safe, Environmentally friendly, & Biodegradable slime. Easy clean up and disposal.
💛 So many fun ways to use slime. See slime ideas below.
💖 100% SATISFACTION GUARANTEE. If you are not happy with the slime let us know why for a full refund!
*This package includes slime powder only. Tubs, water blasters and water bombs sold elsewhere (see recommendations below).
Share
View full details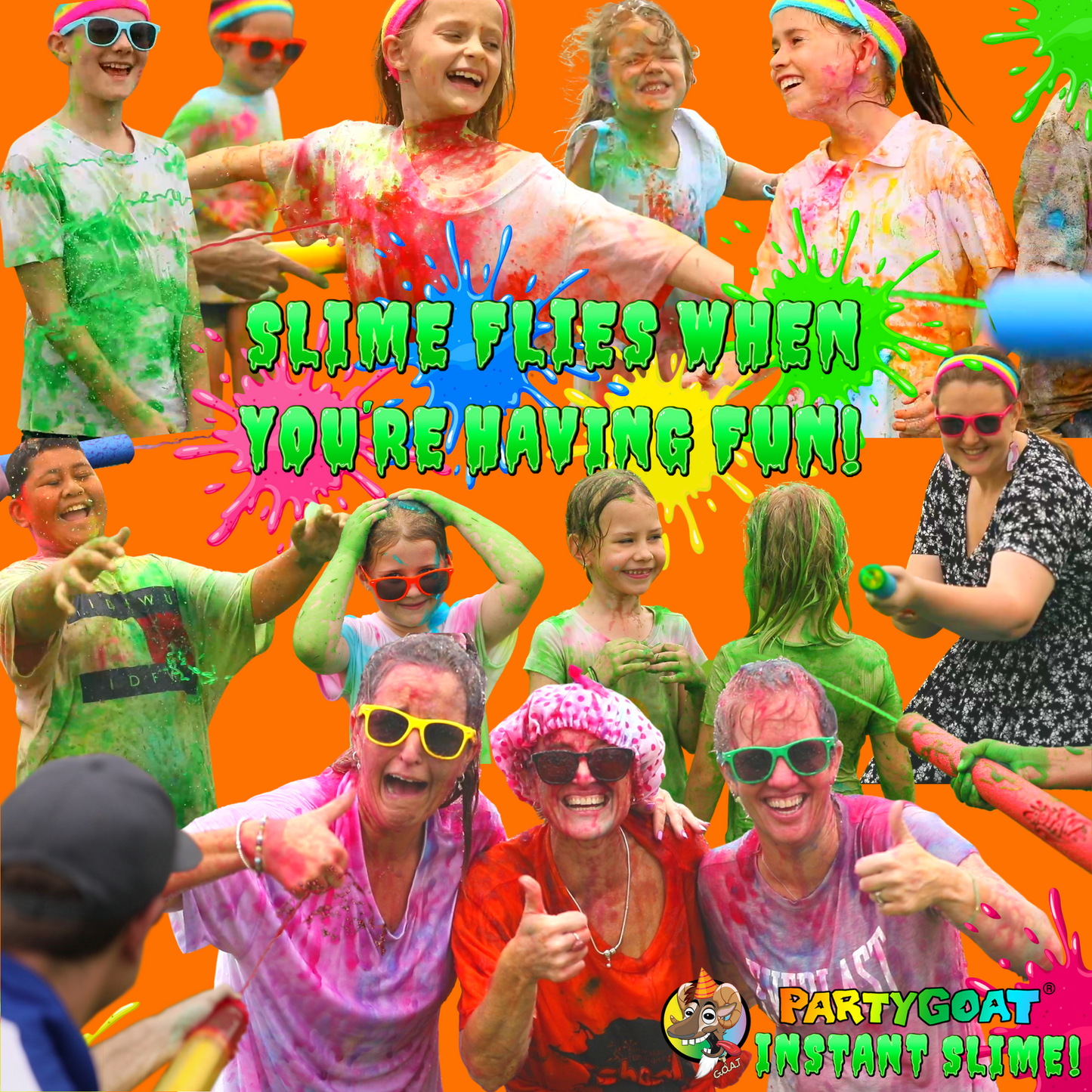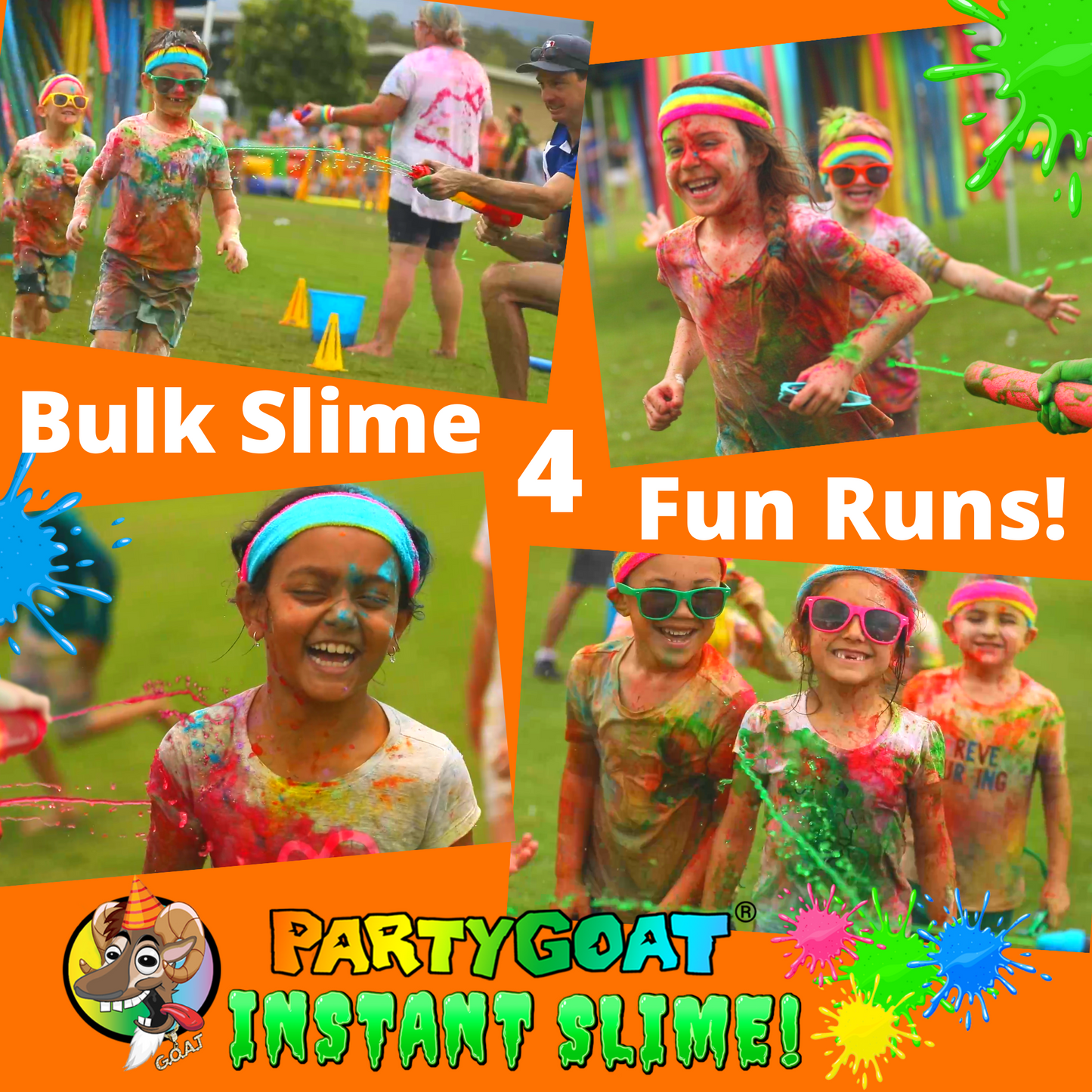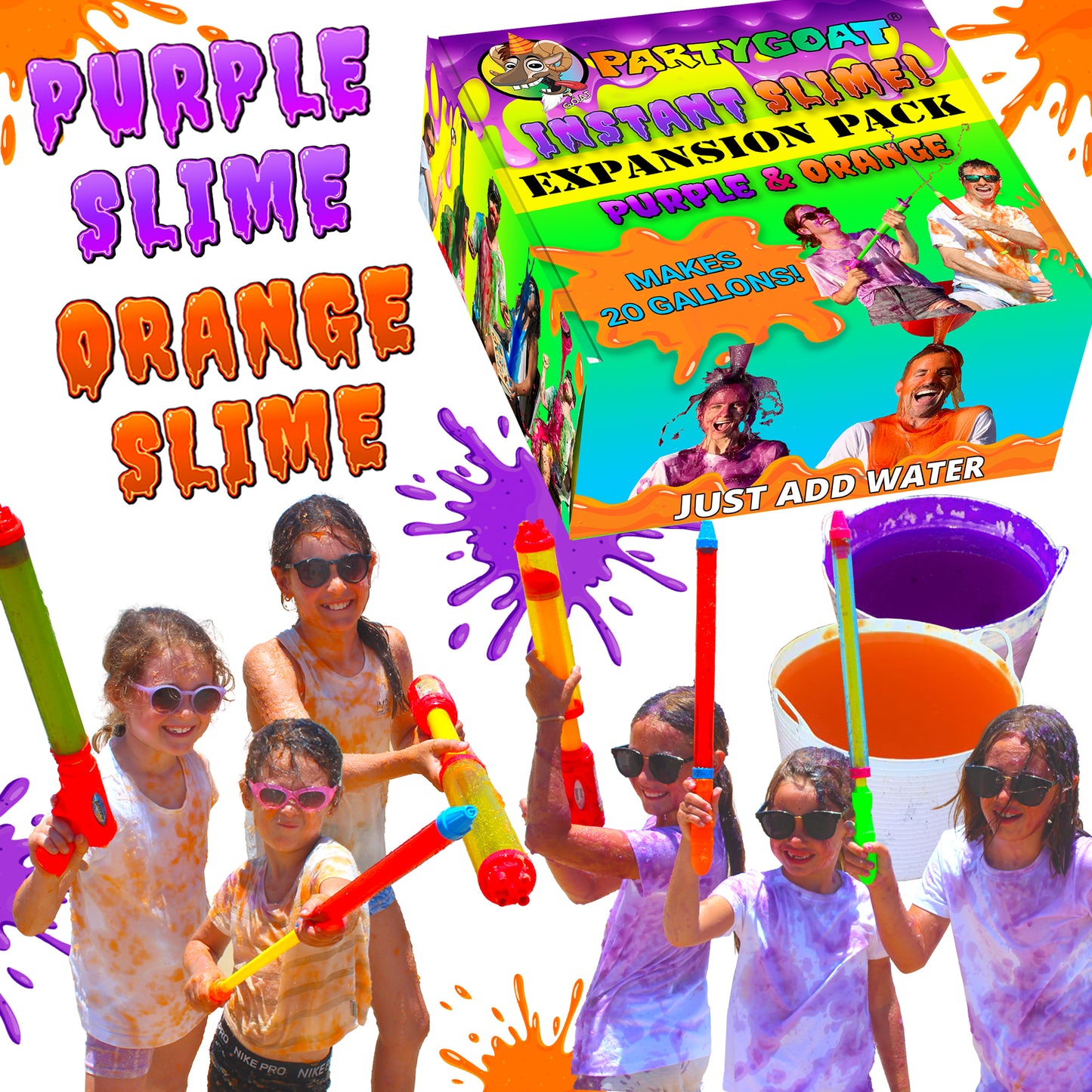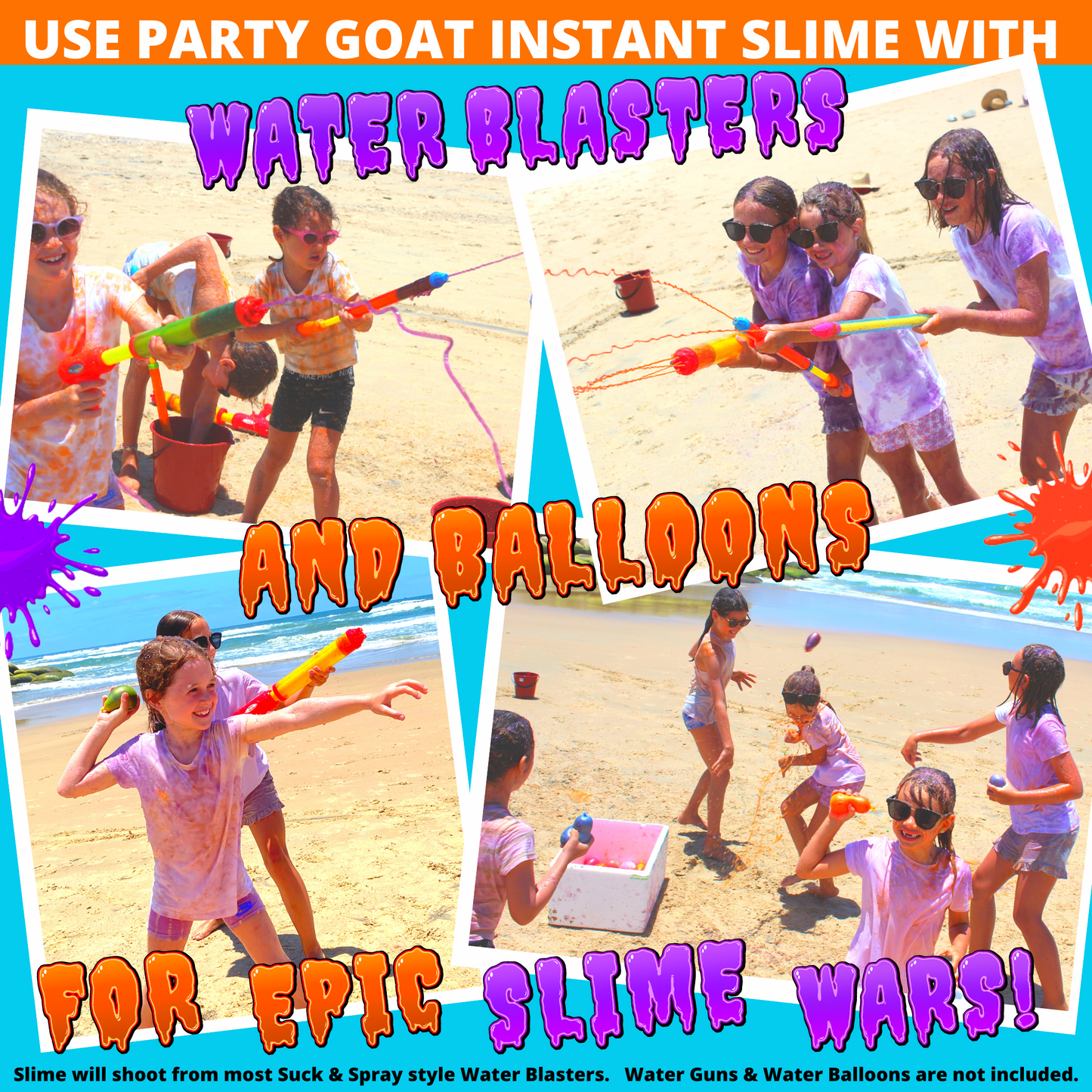 Take water fights to the next level!
• Guaranteed to up the excitement! Kids LOVE slime and battle packs make it easy to set up great slime games!

• Instant slime can be used with water blasters for slime blaster battles or water bombs for slime bomb fights!

• Instant slime can be made in buckets and dumped on people's heads.
Bulk Slime in 3 Easy Steps!

1. Add 10 Gallons of water to a large tub.
2. Sprinkle the slime powder into the water.
3. Give it a stir.

It's as easy as that! The slime powder will magically transform into a sloppy, slimy, goo in seconds! Now repeat this process with the next slime color.
Safe & Environmentally Friendly slime
Safe & Environmentally Friendly Slime
Safe for all participants.
Safe for all!

Worry free slime!
No harmful chemicals or additives.
Focus on the Fun!

Party GOAT® Slime easily washes off skin & comes out of clothes in a normal
washing cycle.
Eco-Friendly!

Party GOAT slime is non-hazardous to the environment, pets, animals & aquatic life.
Is Party GOAT Slime Easy to Clean Up?
Party GOAT Slime is non staining and easy to clean up if you follow the simple methods in the video below.
Slime colors
Party GOAT Instant Slime comes in the original Battle package which contains four colors of slime - Green, Blue, Pink & Yellow (10 Gallons of each - 38L).

Instant Slime now also comes in our Expansion Package which contains two new colors of slime - Orange and Purple! (10 Gallons of Each - 38L)

Purchase both a Battle Pack and Expansion Pack, to have 10 Gallons of all 6 colors of Instant Slime. A huge 60 Gallons of slime that is perfect for color wars, slime color runs and more.
How to Do Slime Blaster battles?
After you have purchased your Instant Slime Battle Packs you'll just need some cheap water blasters and some large tubs.

Most water blaster brands will easily suck up and squirt out the Party GOAT slime.

You can either play in teams with a different slime color for each team or just spread out the slime tubs around the yard for a free for all slime fight!
SlimagedDon - Slime Games Pack
Slimageddon is our new slime games package that includes over 20 awesome slime party games and challenges as well as 15 gallons of Party GOAT Instant Slime.

Purchasing this game as well as an Instant Slime Battle Pack will ensure you have plenty of slime to play all 20 games. You will also have more colors to make more teams.
You can fill water bombs with slime in 4 easy steps!

1. Attach a small plastic funnel to the opening of your water balloon.
2. Measure out 1/4 to a 1/2 teaspoon of slime powder and pour it into the balloon.
3. Fill the water balloon with water and tie it off.
4. Shake it up and wait about 10 seconds.

You will need to play around with the amount of slime powder to suit the size of your water balloons. A little less powder will make for a more watery slime, a little more powder will make for a thicker slime.
Slime War with Slime Balloons
Customer Reviews
Student Ministry Slime Time!

We bought the slime for our Student Ministry Back to School Bash and it was a big hit and everyone LOVED the slime. It was super easy to make, plenty of ways to use it and amazingly easy to clean up. I WILL be order more soon.
Justin H.
08/18/2020
Instant Slime Battle Pack Info
Makes 10 GALLONS (38L) of each color slime!
That's enough slime for 16 x 10 quart buckets!
Creates huge amounts of pink, yellow, blue and green slime instantly.
Instant Slime Battle packs contain all 4 colors for crazy colorful slime games.
Carnival style slime games
Slime bucket target challenge!
The SLIME BUCKET challenge is a hilarious game to play at home, or a great fundraising idea.

Tie a bucket around a beam and sit the victim underneath. Fill the bucket with slime and get contestants to try to knock the slime bucket onto them!

It's hilarious and lot's of fun for the competitors and volunteers!
Pitch burst balloon pop with slime!
For this slime game we attached a fence pailing to a pole using a hinge so that it can swing.

We place a circular target on one size and a sharp nail on the other side. Attach a netted bag around a pole over the victims chair and line it up with the nail.

Pour about 1 - 2 tablespoons of slime powder into a balloon and fill with water. Give it a bit of a shake.

Put the balloon in the bag, hit the target and watch the slime rain down! It's a really fun game!
Justin H.
08/18/2020
We bought the slime for our Student Ministry Back to School Bash and it was a big hit and everyone LOVED the slime. It was super easy to make, plenty of ways to use it and amazingly easy to clean up. I WILL be order more soon.


Instant Slime Battle Back - Party GOAT®
Robert
2/15/2021
Our school has been doing color runs for a few years now using colour powder. This year we decided to try a slime colour run instead. The kids were so excited they raised 3 times the amount of money we have raised in previous years! A massive hit!


Instant Slime Battle Pack - Party GOAT®
Jen
02/14/2020
My kids are obsessed with slime. I bought this for my son's 8th birthday. We had a slime fight in the backyard using slime blasters. Oh boy.. Did they have some fun! The package makes SO MUCH slime.



Instant Slime Battle Pack - Party GOAT®
What else do you need?
To set up slime blaster stations for a slime color run you will need Party GOAT slime as well as some large plastic tubs and water blasters. Party GOAT does not currently sell tubs or blasters. We only sell the slime. Below we have included some links to cheap products that should work well with our Fun Run Slime.
Liquid error (sections/pf-a3e08059 line 136): Could not find asset snippets/amazon-iframe.liquid
Slimefest a winner at our elementary school!
We used the 4-color Battle Pack for our elementary school fundraiser. Students hitting a certain level in donations got to slime the principal! The kids absolutely loved it, we had the entire school screaming with excitement! The slime was easy to mim, but perhaps one of the best parts about the product was how easy it was to clean up, we just took a hose to everything, and the slime ran right off. Everything worked as advertised and we'll certainly use this product again!!
So awesome and easy,kids loved it. Fast delivery too .
Upgrade every activity to slime status!
Buy it over and over again. Great product, makes A LOT. Can be as thick as you'd like, not quite nickelodeon slime texture nor slimy like slugs, kind of has a slight applesauce or pulpy texture. Works in water blasters, dunk tanks, balloons, sponges. Does not stain clothes, washes out fine with no damage to the machine or other clothes. A powder you add to water, it gels so breaking it up and mixing with hands is the best method. Filled eight 5 gallon buckets and still had almost half the powder left for a whole other party. Great product!
Small package, BIG FUN!
You cannot beat this product! One box entertained 40plus campers. So many different possible uses! Easy set up and EASY clean up! No stains! All for a great price!
Fun!!!
Great fun!! Non staining, non allergenic, can be used in squirting tools. Comes off nicely!