Regular price
$40.00 USD
Sale price
$24.99 USD
Unit price
per
Sale
Sold out
Artificial Snow for Christmas Decorating, Snowball Fights, Photography, Snow Crafts and Frozen Themed Birthday Parties.
We are excited to introduce our new snow formula that is the only Instant Snow that can be left out in the sunshine. All other brands turn to a horrible sticky goo within an hour or so but our snow can be played with all day long!
Check out our Instant Snow Activity Guide for over 20 fun activities and games to play with Party GOAT Instant Snow. As well as fun activities it also contains fun facts, teaching tips and science experiments so your kids can learn while having fun.   
Share
View full details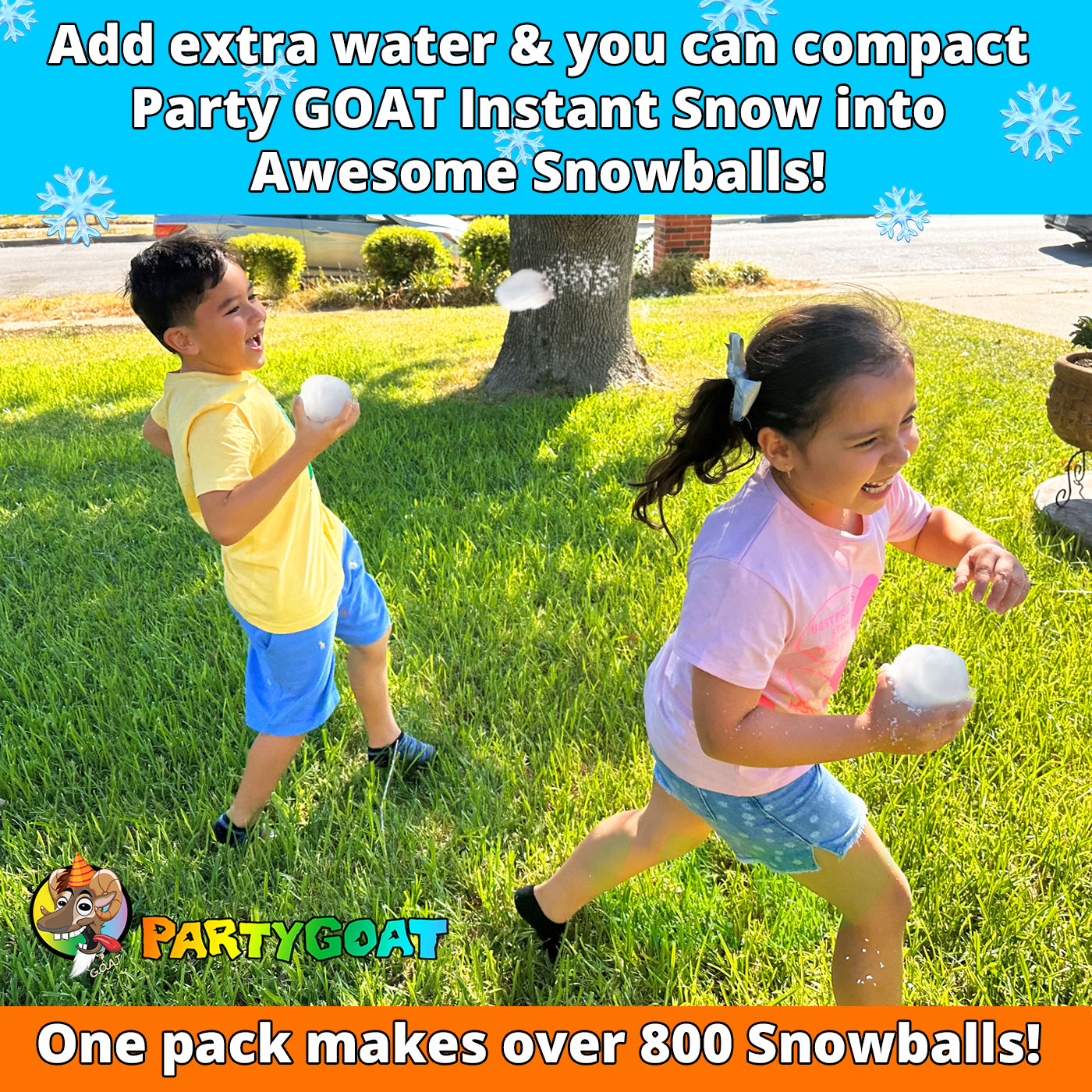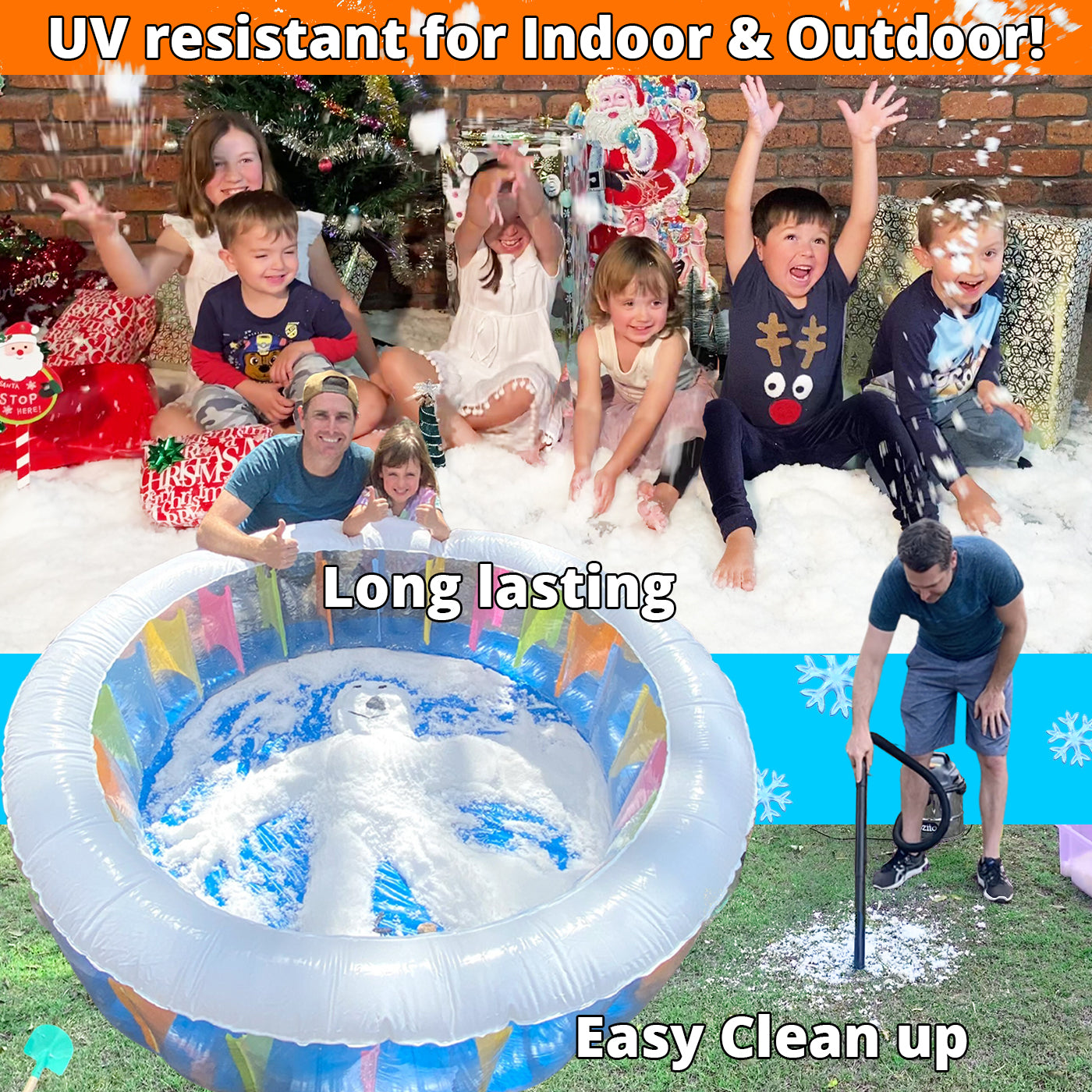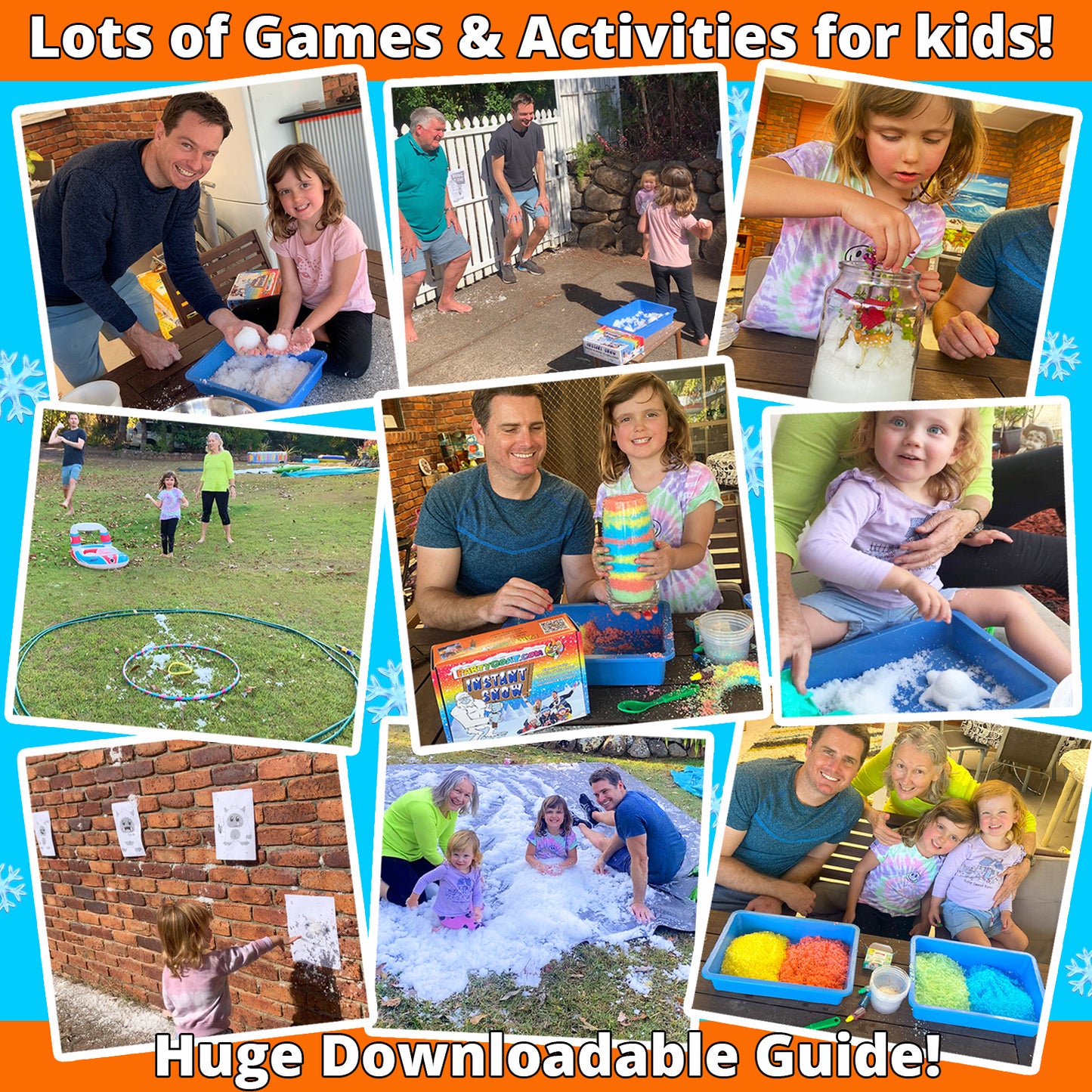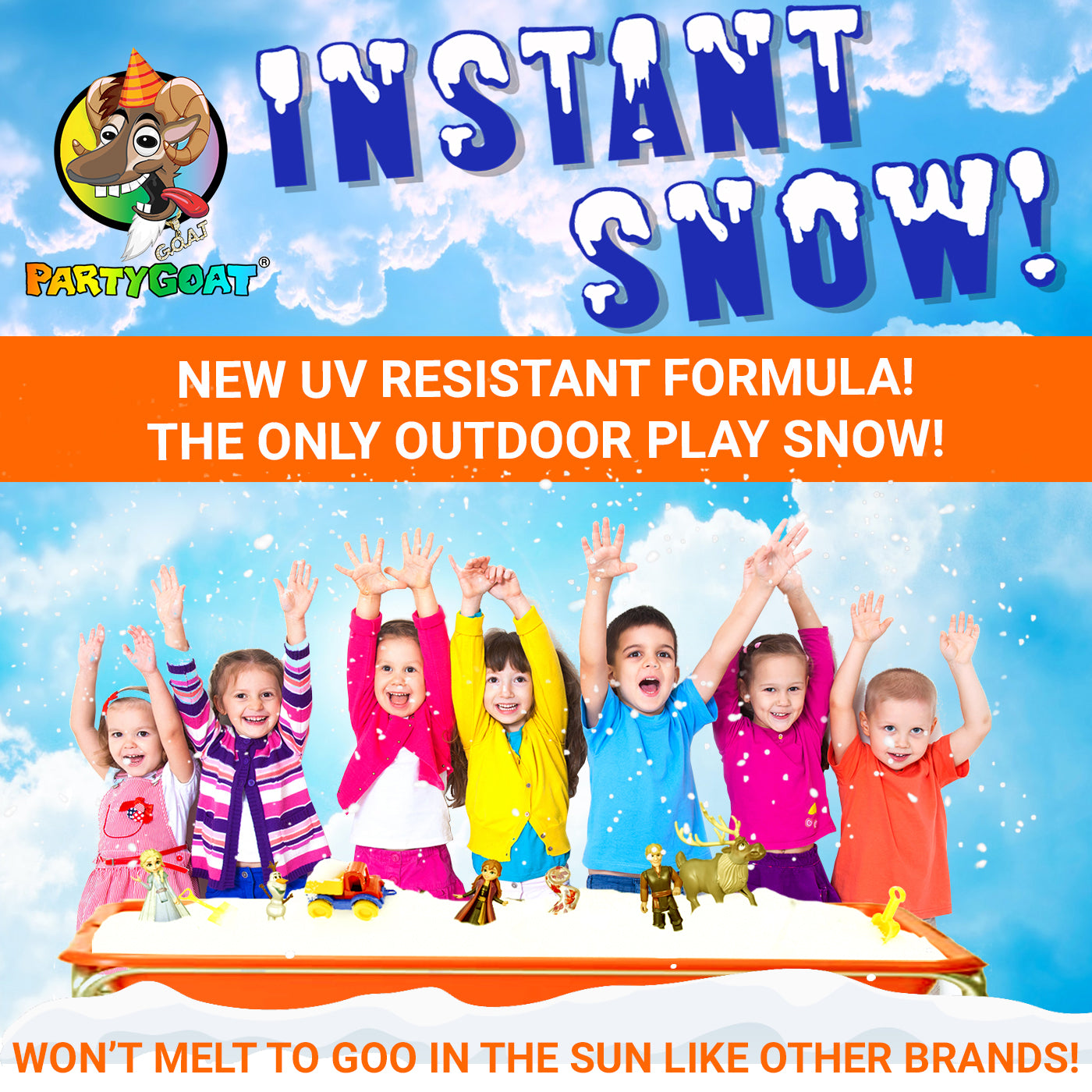 SNOW PLAY ALL YEAR ROUND!
⛄️ Unlike other brands, our snow pack is not just a science project that makes a tiny tub of snow.

⛄️ Our BIG YETI Bulk Snow package has been designed for fun!

⛄️ Enough snow to fill a snow pit, have snowball fights & make snow angels!
THE MOST REALISTIC FAKE SNOW!
❄️ Our Instant Snow polymers have been specially developed by Party GOAT to ensure they shimmer and glisten in the light just like real snow.

❄️ Our unique manufacturing technique creates the most realistic looking fake snow on the market.

❄️ SATISFACTION GUARANTEED! Try it today, risk free. If you are not happy with the product, simply let us know why for a full refund of your money.
How to Make Instant Snow & SNOWBALLS
MAGIC SNOW IN 2 STEPS!
1. Add snow powder to a bowl, tub or pool.
2. Add water and watch the artificial snow grow!
Now you are ready to play and decorate!
Create huge buckets of Imitation Snow in the blink of an eye. The kids will be AMAZED!
It is so much fun to watch the fake snow expand and even more fun to play and decorate with.
🎄The Best Faux SNOW for CHRISTMAS DECORATING! 🎄
Create dazzling Xmas decorations, Christmas villages and holiday displays, indoors or under cover, with this large fake snow package. Party GOAT Instant Snow will shimmer and glisten underneath the lights on your Christmas tree creating an unforgettable, magic Xmas for the kids.

For easy disposal we recommend placing a sheet of plastic underneath your display. After the holidays simply wrap it up and dispose of it in your waste bin or add to your garden mulch.
DISNEY FROZEN BIRTHDAY PARTIES
Frozen PArty Decorations
What could be more important at a Frozen birthday party than snow!?

When planning your Frozen themed party decorations don't forget to decorate with artificial snow. Our BIG YETI snow packages create a huge amount of snow. Enough for decorating as well as playing. Instant snow can be piled on party display tables, sprinkled on trees, placed along window sills and more.

Give your little Elsa or Anna a snow filled experience on their big day, no matter the season.
Frozen Themed Party Games
Wondering how you will entertain all the kid's at your child's Disney Frozen Party? BIG YETI Instant Snow to the rescue!

The kid's will absolutely love making Instant Snow and watching it grow. Make a snow pit and fill it with frozen themed toys. Let the kids use their imagination as they play and create in their own winter wonderland.

See who can make the best snow angel.

Make snow balls for snowballs fights (eye protection recommended).
Safe & Environmentally Friendly SNOW

Safe for all participants.
Courtney
09/18/2021
Wow! This was a massive hit at my Daughter's Frozen Party. The kids thought it was so cool to have snow in September! We filled an inflatable pool with snow and the kids played in it with their toys. Kind of like a sand pit but much cooler with snow.
BIG YETI Instant Snow - Party GOAT®
Tina
09/11/2021
My students love this Instant Snow! It looks so real and is lots of fun to play with. We use it for science experiments and it is great for holiday activities and crafts.


BIG YETI Instant Snow - Party GOAT®
Abby
10/02/2021
The snow was magical underneath our Christmas Tree.




BIG YETI Instant Snow - Party GOAT®
Party GOAT Instant Snow is made from super absorbent polymers that rapidly expand up to 100 times in size when mixed with water.
These amazing polymers turn ordinary water into a white and fluffy substance that looks like real snow!

Our one of a kind manufacturing technique ensures the product not only feels soft and fluffy but also twinkles and shines in the light.

Instant Snow is the latest technology used by movie makers to create incredibly realistic snow scenes without the hassle of melting ice.

Instant Snow is a popular activity for school science experiments!
Once mixed and fluffed up, each pack makes 15 GALLONS of fluffy, glistening snow!
That's enough snow for 12 x 5 quart buckets!
Cover an area approximately 24 square foot, 1 inch deep in snow.
Each cup of powder makes 3 Gallons of snow.
We guarantee you will get more than 5 cups of Instant Snow powder per package to make 15 Gallons of Snow!
Instant Snow Instructions
How much water do you add to instant Snow?
Each pack of Instant Snow will make up to 15 gallons of snow.
For a dry snow, add a little less water.

To make ½ gallon of Instant Snow (1.9 litres of snow) Pour ¼ gallon (950ml) of water onto 1¼ ounces (36g) of powder (approx 2½ tablespoons of powder)

To make 2 gallons of Instant Snow (7.6 litres of snow) Pour 1 gallon (3.8L) of water onto 5 ounces (142g) of powder (approx 10 tablespoons of powder)

To make the whole 15 gallons of Instant Snow (57 litres of snow) Pour 7½ gallons (28.5L) of water onto the whole package of powder
*Once you fluff up the snow it will expand to the volumes above!*
How to make SNowBalls With Instant Snow?
To make snowballs using instant snow the mixture needs to be a little bit wetter to help the artificial snow particles stick together.

Slowly add small amounts of water until you get the desired consistency. When the mixture is right you should be able to compact it into snowballs for epic snowball fights.

When throwing the snow, you are best to do so in a shot-put motion to prevent the snow from breaking in your hand.

Please note: When throwing snow we highly recommend protective eyewear. Snow powder in the eye can be irritating. If you get snow in your eye, flush it with plenty of fresh water.
Is Instant Snow Reusable?
Instant Snow can be rehydrated once it is dried out by the sun if used on a clean tarp, plastic sheet or tablecloth. To help the snow dry quicker, spread it out in a wide, thin layer and place in direct sunlight. Often the dried snow will stick to the plastic sheet that you have it laid out on so you may have to scrape it back into the resealable bag. It won't be as nice as a fresh pack of snow the next time you add water and the quantity to add may differ so add water slowly.

Going through this process to reuse the snow powder is a bit of a pain in the butt so we aim to provide bulk bags of Instant Snow at a low price so that you can use fresh, clean snow powder each time you want to play or decorate.
Five stars for customer service!
Will rate again for snow product after use. Want to give a shout out to a company that immediately sent a second package when first shipping company delayed the package. Ultimately ended up with two packages and was told to keep them both. Hopefully the shipper can right this as I felt bad. Not often to get an instant response from a business that wants the (new) customer happy. It was so respectful and appreciated. Lets hope the snow is as great as the customer service!