Slime the Principal Fundraiser
A slime the principal fundraiser is a fantastic way to raise money for your school or charity. It is very similar to an ice bucket challenge, but rather than having ice tipped on your head you get a large bucket of colorful slime poured over you. You can choose to slime the teachers, parents or anyone that's willing to volunteer.
Slime the youth pastor days are also popular for children's ministry youth events at church. These events can also be a great way to raise money in a workplace by sliming the boss!
What is a slime the principal fundraiser?
A slime the principal fundraiser is a fun incentive to motivate students to raise money. School's set fundraising targets for their students to try and achieve. Once a class reaches a certain dollar value they win the prize of sliming their teacher!
If the whole school reaches a certain level then they get to watch in hilarious joy as the principal or school leader gets covered in slime! As an extra incentive the highest earner is usually the person that gets to tip the bucket!
Alternatively kids could pay to buy a bucket of slime (Instant slime is available in 6 colors), that they are then able to pour on their teacher or principal's head.
Slime the principal is a funny challenge to motivate students, and the kids love it!
Slime Fundraiser Ideas for Schools & Churches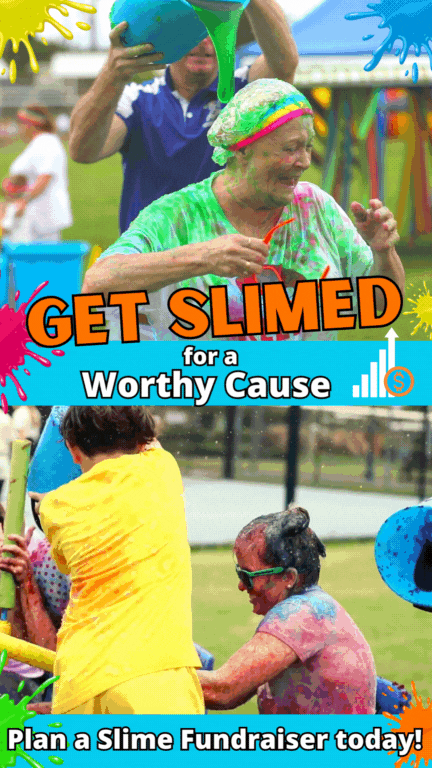 Slime the Teachers!
It is a well known fact that kid's absolutely LOVE slime! This is why game shows such as those on Nickelodeon TV have always been popular and feature loads of slime.
Kid's loving watching someone get coated in runny, slimy, sludge. So what better way to incentivize them than offering a slime the teacher reward! This is a great idea for elementary school fundraising. 
Slime the Youth Pastor
Slime the youth pastor is also a fun activity for church fundraisers and youth group activities.
What do you need for a Slime the Teacher Fundraiser
The best things about slime the teacher or slime the youth pastor events is that they are so simple to set up. All you need is Party GOAT slime and some buckets to mix it in. We usually recommend setting up on grass. If this is not possible you may want to slime people in an inflatable pool so you can catch the slime for easier disposal. You can also choose to slime people by spraying them with slime from water blasters. For more information on this read our article on how to have a slime war using water blasters.
Instant Slime

Party GOAT Instant Slime can be purchased by the box in individuals colors (GREEN, PINK or BLUE), each box makes a whopping 25 Gallons of slime (95L).

Want to make your principal extra colorful or slime each teacher in a different color? Battle Packs are also available which contain a 10 gallon bag (40L) of each of the 4 colors in the one large package (Green, Yellow, Pink and Blue). That a total of 40 gallons per pack (160L).

Slime Expansion Packs are also available containing 10 gallons to 2 new colors - orange and purple (20 gallons in total - 80L). Click the links for more info or purchase your slime below.

Unlike homemade recipes, that often end up stuck in people's hair. Party GOAT slime is non sticky and non staining.

Slime the Teachers with Slimageddon

To make things super easy we have a slime games pack called Slimageddon that comes with 12 buckets that are a perfect size for kids to pour slime on the teachers.

The slime buckets also have slime lines on the side to show you how much water to add for a mini, mean, major or mega sliming. Each bucket can hold 3 quarts (about 3 Liters) of slime. 

The Slimageddon pack comes with 15 gallons of Purple & Green Instant Slime Powder and also has 2 slime guns and other fun accessories!

Click the link to visit our Slimageddon Slime Games page to find out more information on this epic slime pack. 
Student Reward days with Slime
Slime the principal can also be used as a reward for good behavior, or for reaching academic achievement goals. The kid's that achieve the greatest results or show the best improvement can be the ones allowed to pour the slime!
Principal punishment challenges are always popular, and are a great way to motivate students. Show them how much you care about their results by taking on the slime the principal challenge!
Some schools also like to give prizes to the top performing students. The Slimageddon slime games packs is a favorite prize to win and always makes their eyes light up with excitement.  
Slime Testimonials
Awesome!

"We slimed our principal and this was amazing! It mixed up quickly and a little went a long way. Best part was it cleaned up just as fast and easily. The staff used water blasters to shoot them with slime and then we sat them in inflatable pools and poured it over them. The kids loved it and it was a great consistency. We have half of each pack leftover for another time. Highly recommend!" Emily

Slime-a-teacher success!

"Other schools in our district have used this product for their events so it was the only one I would consider. Do not attempt 'homemade slime.' It will turn out lumpy and miserable. This product is amazing. We have enough powder left over for our next event! We 'slimed' 2 teachers, so I used two 5 gallon buckets to mix the slime in." Jamie

Perfect slime!

"Our PTO used this slime as a fundraising reward for students - "sliming" the teachers.
We prepared one bucket of slime per teacher. The powder/water mix format makes it very easy to adapt how thin or thick we wanted it. We slimed 16 teachers, and didn't even finish the bag!
Would recommend to anyone doing a similar activity!" Elizabeth
How to make Slime to Slime the Teachers
Party GOAT Instant Slime makes it so easy to make bulk slime for slime the principal fundraisers, slime color fun runs, slime pools, and many other slime games.

2 tablespoons of Party GOAT instant slime (30g) mixed with 1 gallon (4L) of water will make 1 gallon of slime (4L).
10 tablespoons (150g) of slime powder mixed with 5 gallons (20L) of water will make 5 gallons of slime (20L).
To make a thick slime add a little extra powder, to make a runnier slime (great for water blasters) add a little more water.
Party GOAT Slime is available in 20 gallon, 25 gallon or 40 gallon packages.
Clean up and safety
Party GOAT Slime is non toxic, biodegradable, hypoallergenic, gluten free, pet friendly and safe for kids. Unlike other slime products it does not contain borax or other harmful chemicals. Although not designed for consumption, swallowing mixed Party GOAT slime is not expected to cause any harmful reactions.
Party GOAT Slime is non staining, non sticky and easy to clean. It won't get stuck in your hair. Watch the video below for an easy clean up demonstration.
Click here for a copy of the Slime MSDS.
Non Staining Slime
You can rest assured that Party GOAT Instant slime does not stain clothes. The last thing we want is to ruin your principal's nice shirt. To prove that our slime is non staining we slimed John with all 6 colors of Instant Slime. Watch the above video of the simple clean up process. 
Other Slime Fundraiser Ideas
A slime the teacher fundraiser is the perfect way to finish the day after a slime color fun run. Click here to learn how to do a slime color fun run, or click here for more unique fundraising ideas.
Safety tips
Slime can get slippery especially when left in thick piles on the ground. We always recommend setting up on grass and cleaning slime away from foot traffic areas after use.
Eye protection is recommended if pouring slime over heads. If slime enters your eye flush well with water to prevent irritation. 
Share to win
If you do a slime activity don't forget to share your photos and videos for a chance to win prizes for you or your school. We do regular giveaways to people that share content. Join our facebook group to see some of the latest prize winners and see some other fun activities with slime.
Join our facebook group
Slime Bucket Carnival Games
Instant slime can be used to make quick and easy, but super fun, carnival style games for backyard fun or fundraising events. These games are great alternatives to dunking machines, that can be set up fast and on a small budget.
Instant can also be used to fill dunking machines with slime.
What's included in a Slimageddon Pack
More fun products and ideas