Regular price
$99.00 USD
Sale price
$85.00 USD
Unit price
per
Sale
Sold out
❤️ Each Jello Wrestling Kit makes 100 Gallons (380L) of THE BEST bulk Jello for Wrestling! 
💚 JUST ADD WATER to make chunky, slippery, slimy Wrestling Jello! NO REFRIGERATION OR BOILING WATER required. 
🧡 NON TOXIC, 100% BIODEGRADABLE. Our Jello Wrestling Mix WILL NOT MELT in hot weather. Non sticky and non staining wrestling jello (please note - this product is designed for fun, not consumption). 
❤️ 100% SATISFACTION GUARANTEE. If you are not happy with this Jelly Wrestling product, tell us why for a full refund.
💚 Great for non-wrestling party games also. More details down the page. Available in the USA, Canada and Australia. 
Share
View full details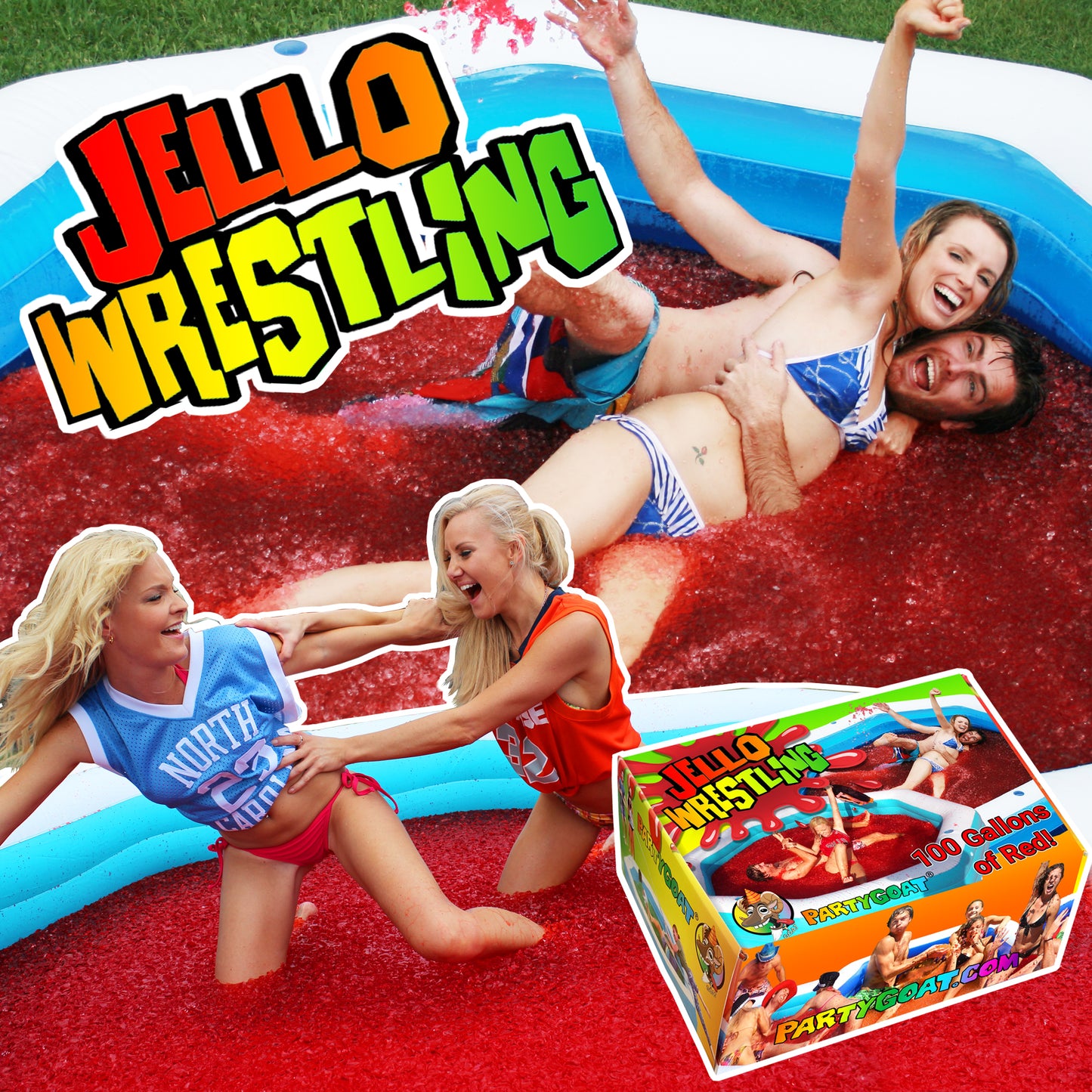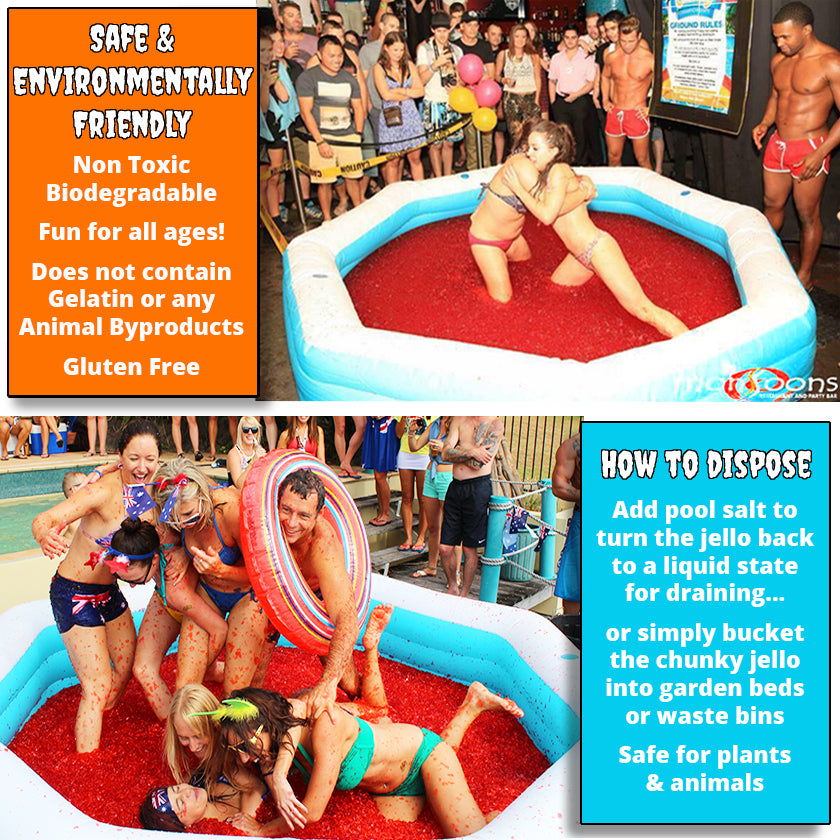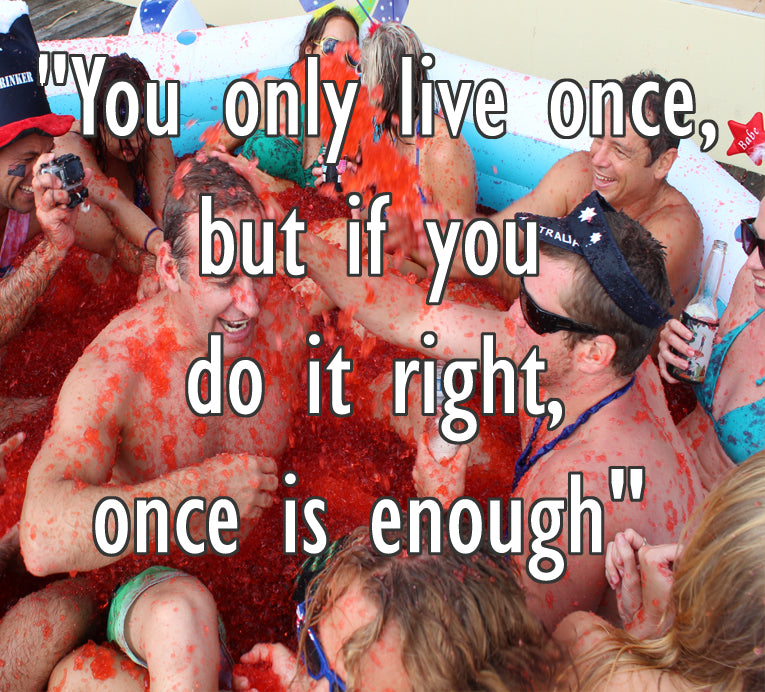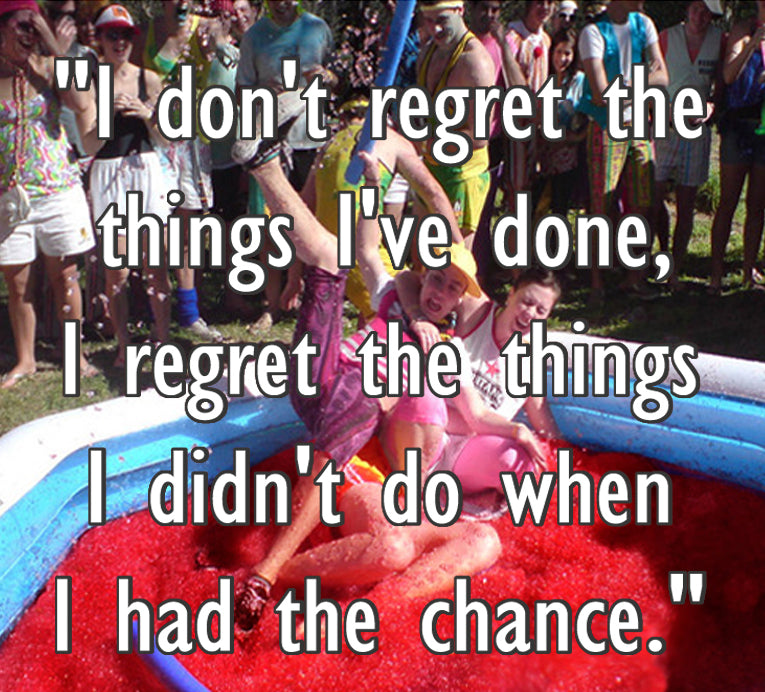 BulK Jello for Wrestling & Party Games
Why use Party GOAT Jello Wrestling Mix?
• Our Jello Wrestling Kit was designed for the craziest, most fun, unforgettable parties & games!
• It makes big chunks of wrestling jello.
• Suitable for any climate. Our Jello wrestling jello WILL NOT MELT in hot weather. Sets in any temperature.
• Just add water to make bulk jello.
• Non sticky & Non staining (will wash out of clothes in a normal cycle).
• No expiration date. Buy it now and use it whenever the time is right! Available in USA, Australia & Canada.
Buy Jello Wrestling Jello
How to set up a Jello Wrestling Ring?
How to make a jello wrestling pool
Step 1. Buy and inflate an inflatable pool. We recommend 2 or 3 ring inflatable pools to ensure they hold their shape when the jelly wrestling action begins.

Step 2. Work out the amount of jello required to fill the pool to the depth you desire. In the picture we have given a rough guide to filling common pools 5 inches deep (13cm).

Step 3. Add the jello wrestling mix to the pool. Each jello wrestling package will make 100 gallons of wrestling jello.

Step 4. Add the correct amount of water. A maximum of 100 gallons of water per jello wrestling kit added to the pool.

Step 5. Wait up to 3 hours for the chunky jello to form.
Other Games to Play with an Inflatable Pool Full of Jello
Jello Tug of War, Jello Dunk Tanks & Fundraisers
There are lots of fun games you can play with a pool of jello other than just jello wrestling. Jello pits can be used for a range of fun youth groups games, party games, and fundraising activities. Some of our favourites are listed below:

• Jello Tug of War - The losing team gets pulled into the jello pit.
• Jello Dunk Tank - Fill a dunking machine with jello for the most memorable dunk tank challenges.
• Jello Fun Run - have contestants crawl through a large pool of jello as a fun run obstacle
• Jello Slide - a fundraiser where participants pay to slide down a slip and slide into a large pool of jello.
• Jello Money Hunt - race to find money buried in the Jello.
What do our customers Say
Katherine
04/07/2021
So much fun and so easy!! I highly recommend this product. We set up a jello wrestling pool for our start of term med students bash. We all wrestled in our scrubs. The jello didn't stain at all and we had a blast. A great way to blow off steam before the school year begins.
Party GOAT Jello Wrestling Package - Red
Mindy B.
03/09/2022
Great jello mix for fundraising! Our sorority does a yearly jello tug of war fundraiser. Participants pay to compete in hilarious tug o war games. It is always a hoot.
Party GOAT Jello Wrestling Package - Green
Monsoons Party Bar
4/11/2021
We have been using this jello wrestling mix for years at our party bar in Darwin Australia. Our jello wrestling nights always draw huge crowds, and the jello wrestling package makes it very easy to fill the pool with jello.
Party GOAT Jello Wrestling Package - Red
I say Jell you say OOOOOOO
OMG so much fun! I did this for my wife and I, and we had a BLAST!!!! She is 2 weeks due to having our daughter and she was still able to have fun. She was slipping and bouncing all over! hahahahqhahahahahah! EVEN OUR NEIGHBOURS GOT IN SOME OF THE ACTION! They saw us going at it through their windows and just couldn't resist! GUESS WHAT! MY HIGHSCHOOL CRUSH WAS PASSING BY and saw us in the backyard GOIN ALL CRAZY and stuff and she joined in. GUESS WHAT ELSE! MY GRADE 3 TEACHER was walking her dog Chilie, and saw us having so much fun and just jumped in with us. It was great
just haven't tried it yet
Unforgettable..haha
From what I remember… I think it was the greatest night of my life 🤣 I might've had too much fun.
Bucket List ✅
If this isn't on your bucket list, add it and tick it off! This was an absolute hit! It was so easy to set up and nearly everyone who attended our party jumped into the jello at some point. For a wrestle or just to drink beers!
Why should you have a Jelly wrestling party?
If you want to host a party with a difference you can't go past the excitement and fun of a Jello Wrestling Party. Jelly wrestling pools provide hilarious entertainment for both participants and spectators. Once experienced a jello wrestling party will never be forgotten. Our unique Party GOAT jelly formula makes it so easy to set up and creates a wonderfully chunky, slippery and slimy jello texture for your wrestling pleasure.
Where do we ship jello wrestling packages?
Party GOAT jelly wrestling crystals are currently available to buy in the USA, Australia and Canada. We hope to spread to more markets in the future.
How to dispose of the jello after wrestling?
Party GOAT® Jello wrestling mix is 100% non toxic and biodegradable. After your event you can shovel the product into garden beds or dump it in large rubbish bins or dumpsters where it will naturally break down over time. Alternatively you can watch the short video below which demonstrates how you can easily turn the jelly back into water for easy disposal.

This video was made before we rebranded to Party GOAT®.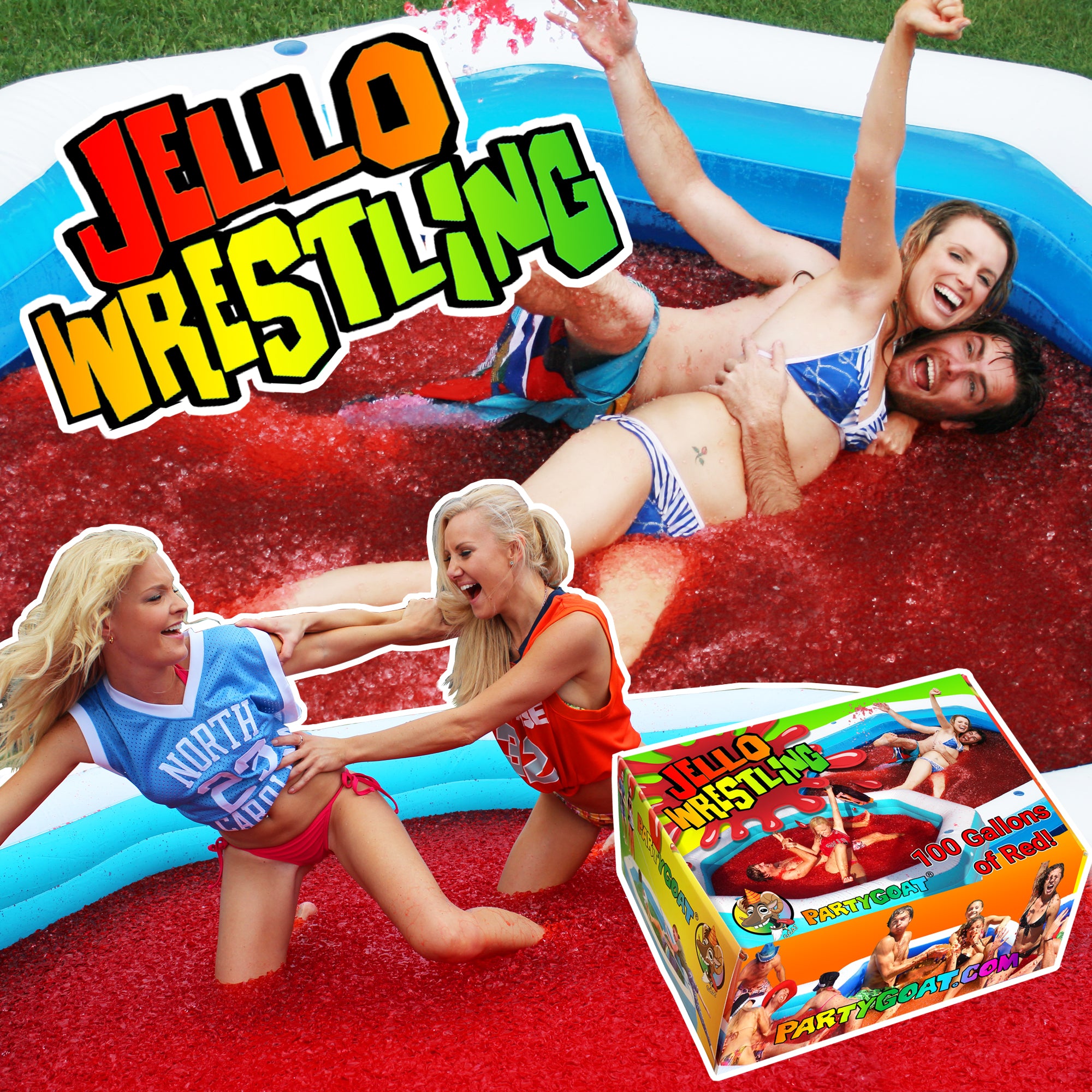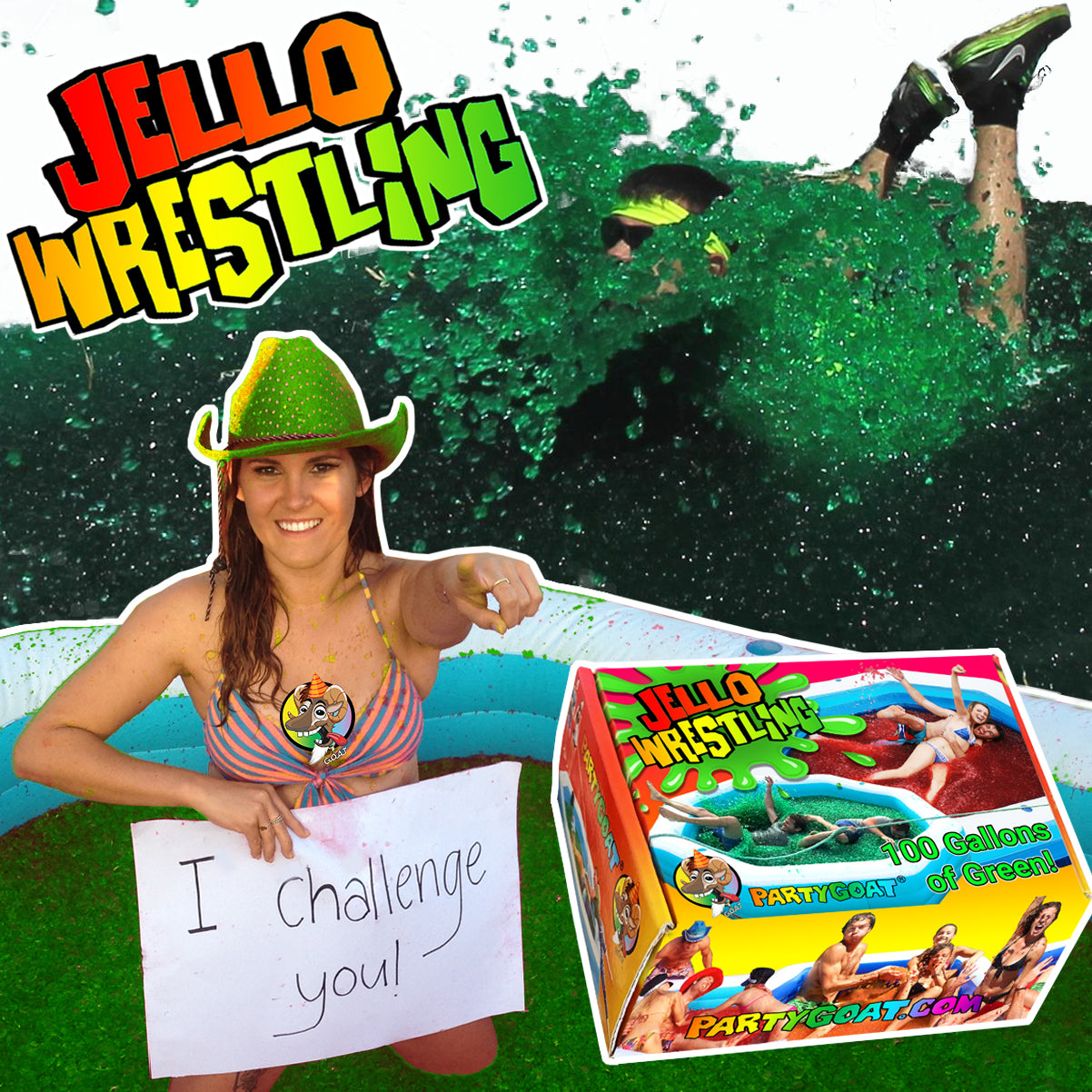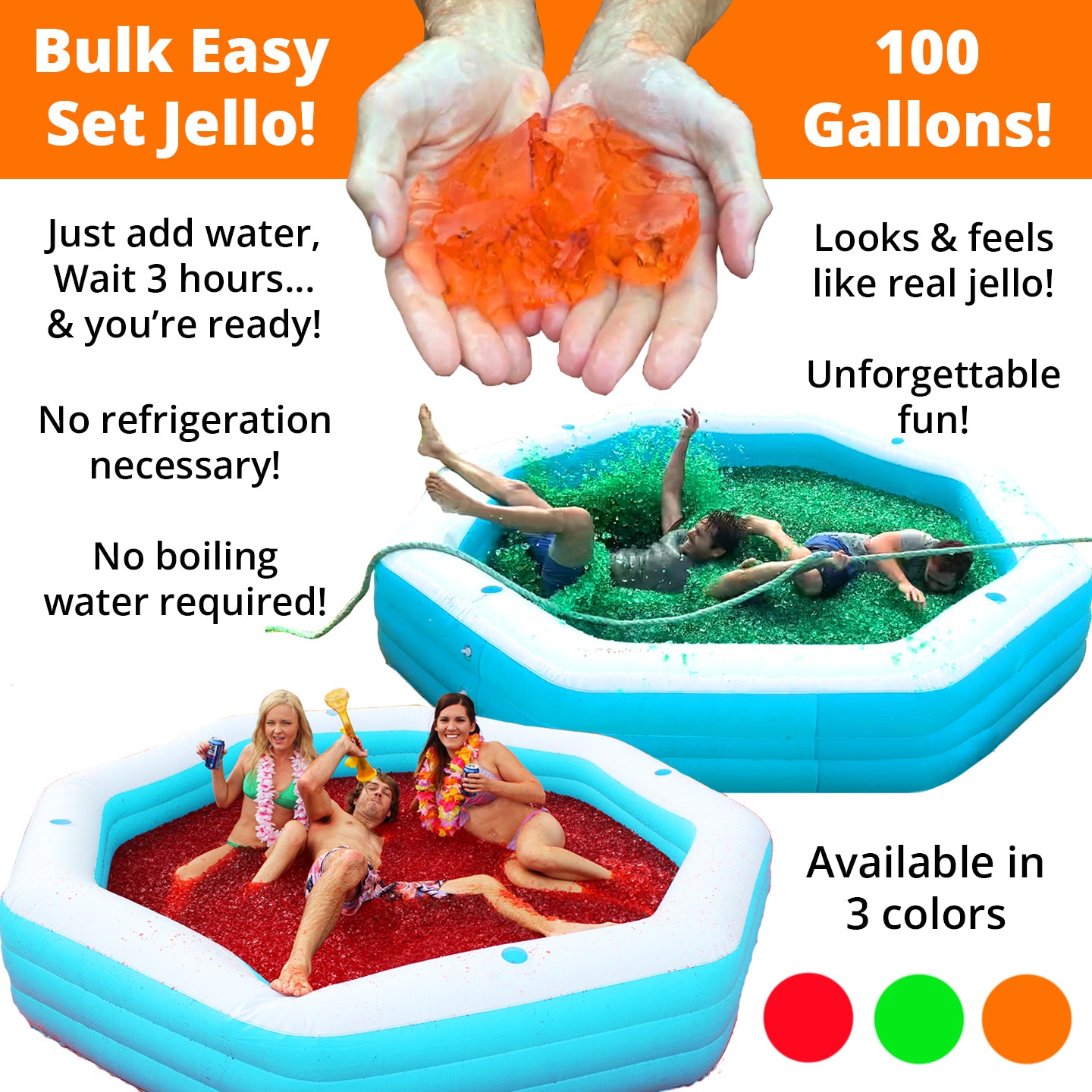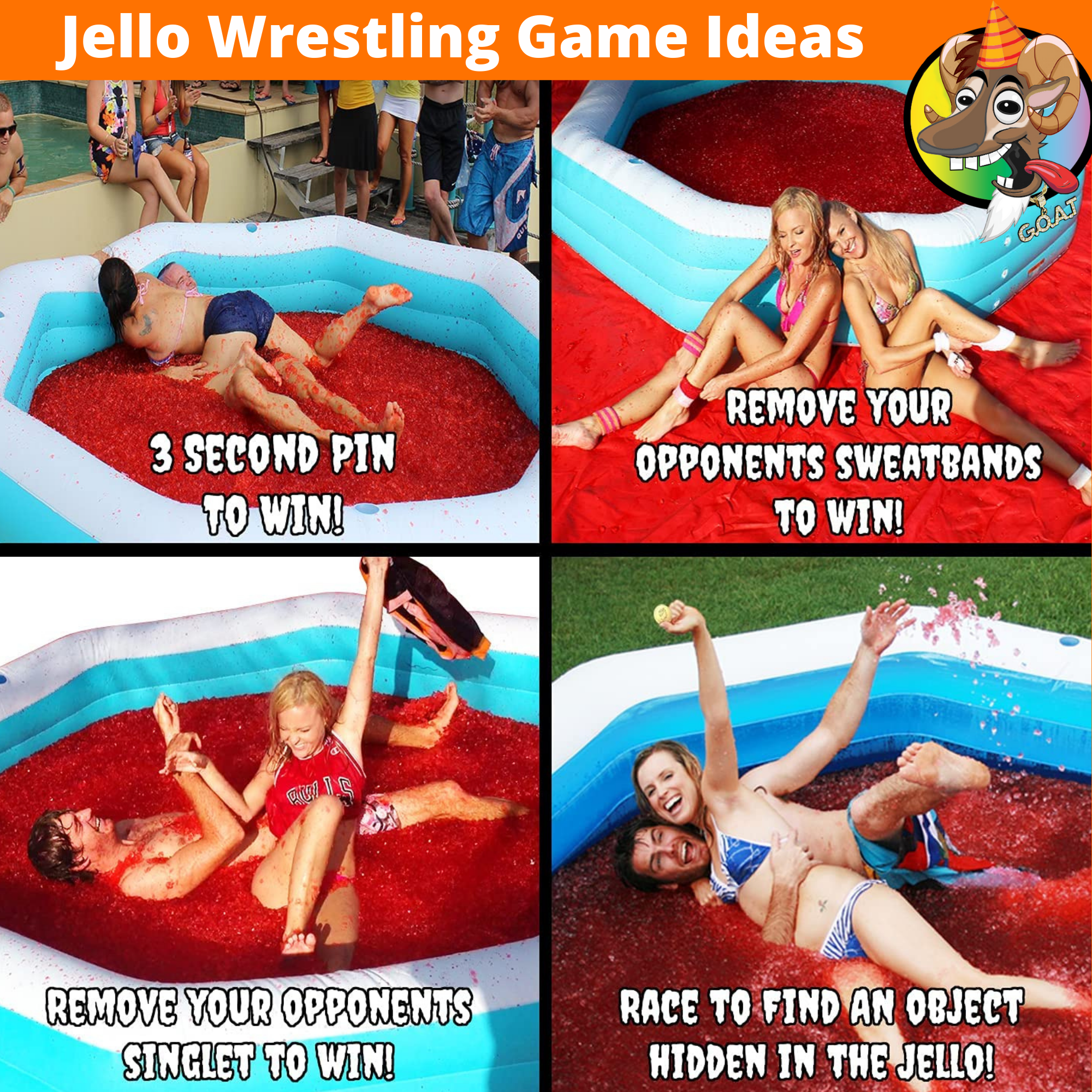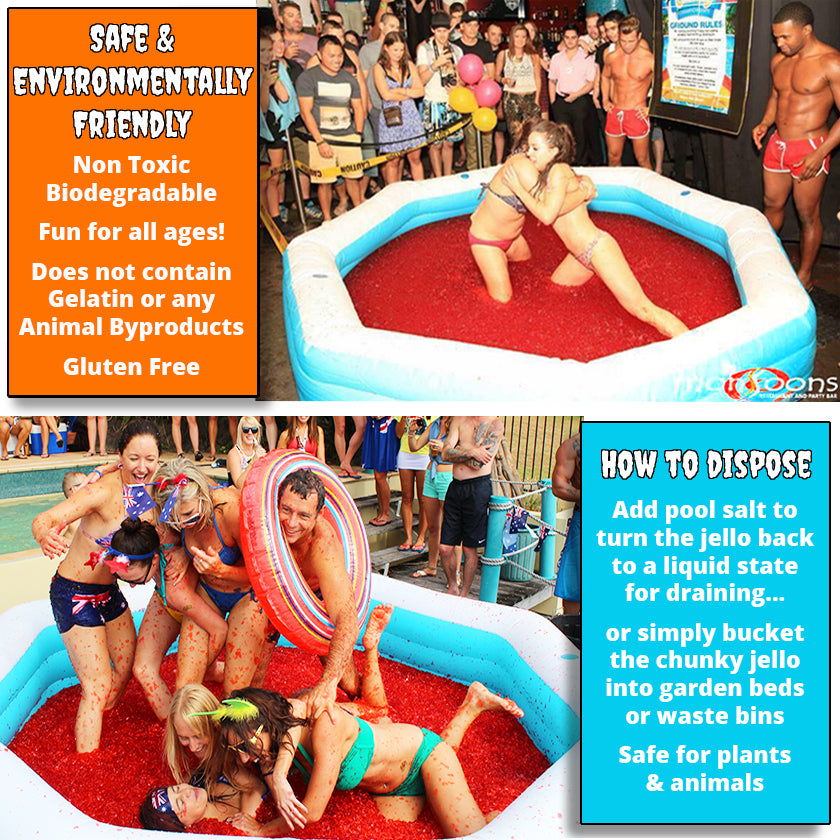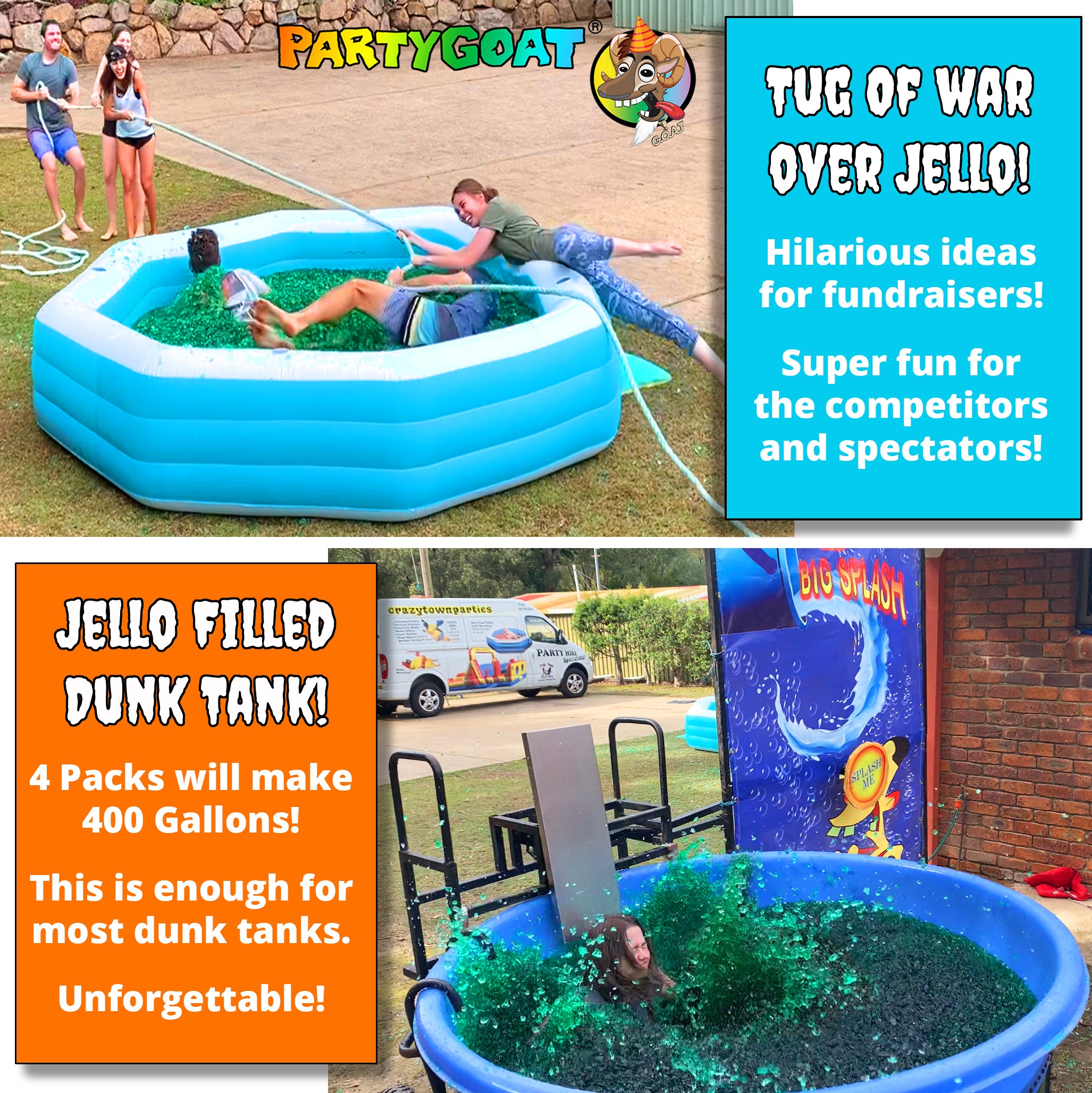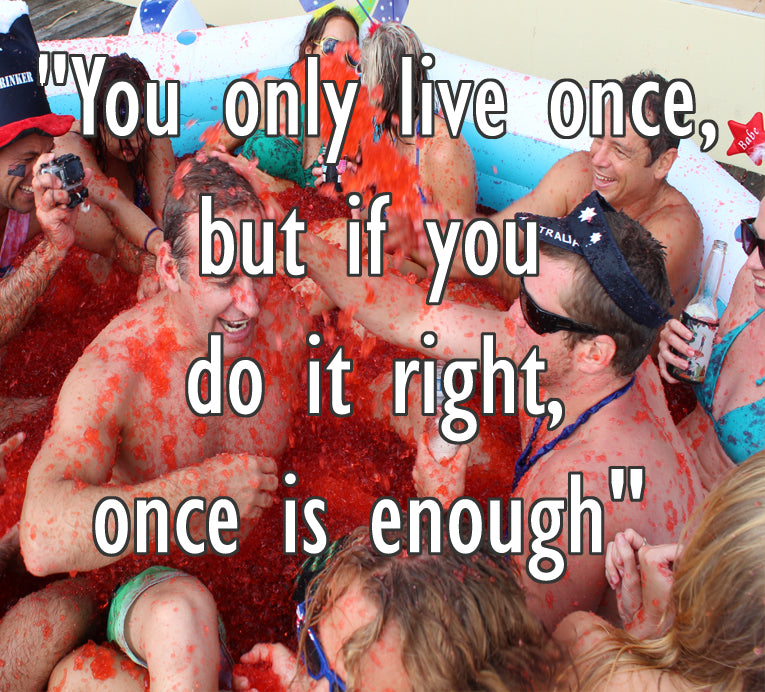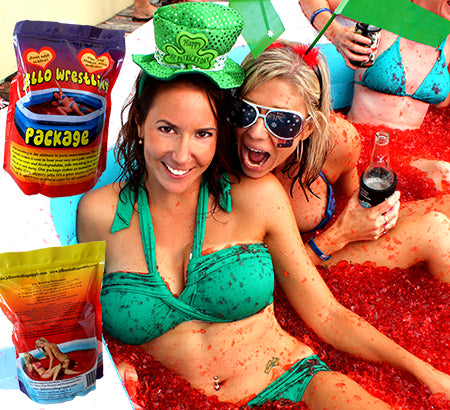 Special Deal
JELLO WRESTLING JELLY! (100 Gallons)
Hilarious Jello Wrestling action
Tag us in your jello wrestling photos and videos on social media for the chance to win prizes.
Does Jello Wrestling Jello Stain?
Party GOAT Jello (formerly Jello Wrestling Supply) is non staining! Watch the video below to see how it washes out of clothes.
Jelly Wrestling photo gallery