How to host a slime party?
In this guide we will talk you through everything you need to know about hosting an epic slime party!
It is a well known fact that kids LOVE SLIME! This is why shows like Nickelodeon TV always have game shows filled to the roof with slime, huge slime events, and celebrity sliming. When it comes to slime, kid's can't get enough of the runny, gooey, slippery, yucky stuff. So why not embrace it and make your child's next birthday party a slime party!
What is a Slime Party?
A slime birthday party is a themed celebration in which as many things as possible involve, relate to, or are covered in, slime! This can include slime making activities, slime games, slime decorations, slimy party favors, slimy foods, slime themed invitations and slime battles. It's a yucky theme that may get a little messy but the kid's (and adults) will have an absolute ball.
What type of slime to have at a slime party?
There are several different types of slime that are used for different activities. There is the more runny style of slime that is used for pouring on people (like in the Nickelodeon TV shows), or for slime color battles, then there is the thicker style of putty slime that is fun to stretch, squish in your hands and experiment with. An awesome slime party would involve activities and games with both types of slime. Slime parties are best suited outdoors or under patio areas that can be hosed down, as the action can get messy.
SLIMAGEDDON™ - Ultimate Slime Games Pack
Regular price
$50.00 USD
Sale price
$39.99 USD
Unit price
per
Sale
Sold out
Share
View full details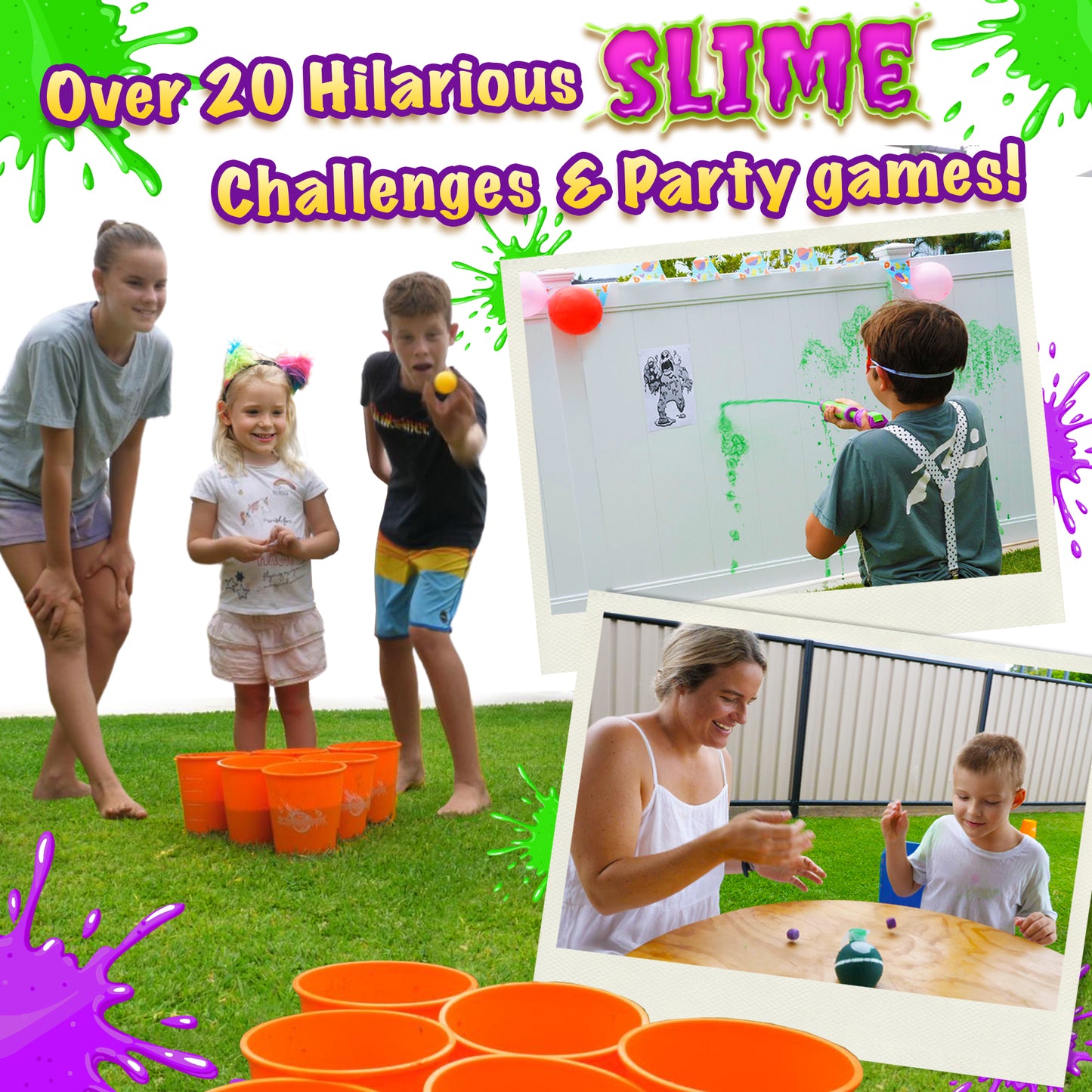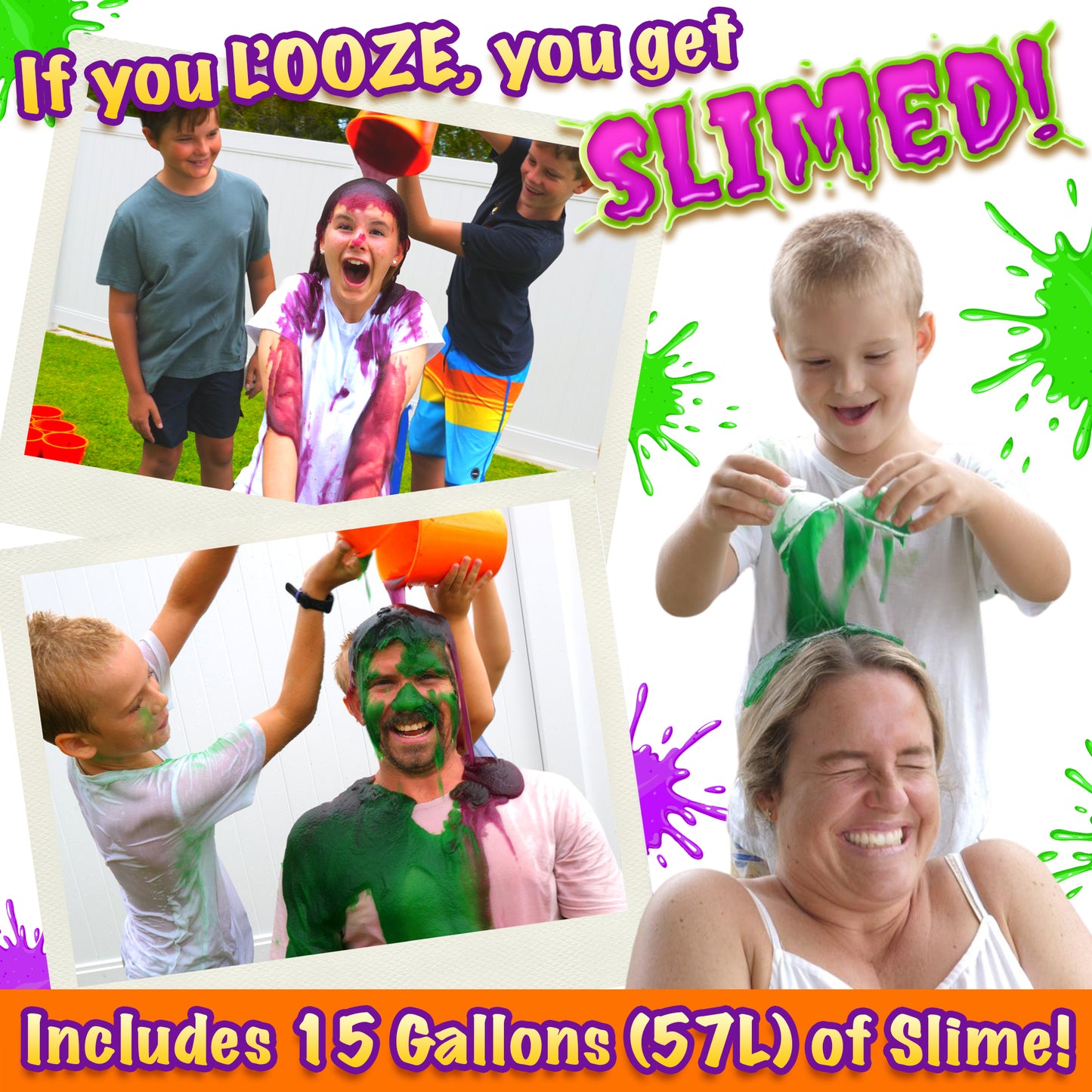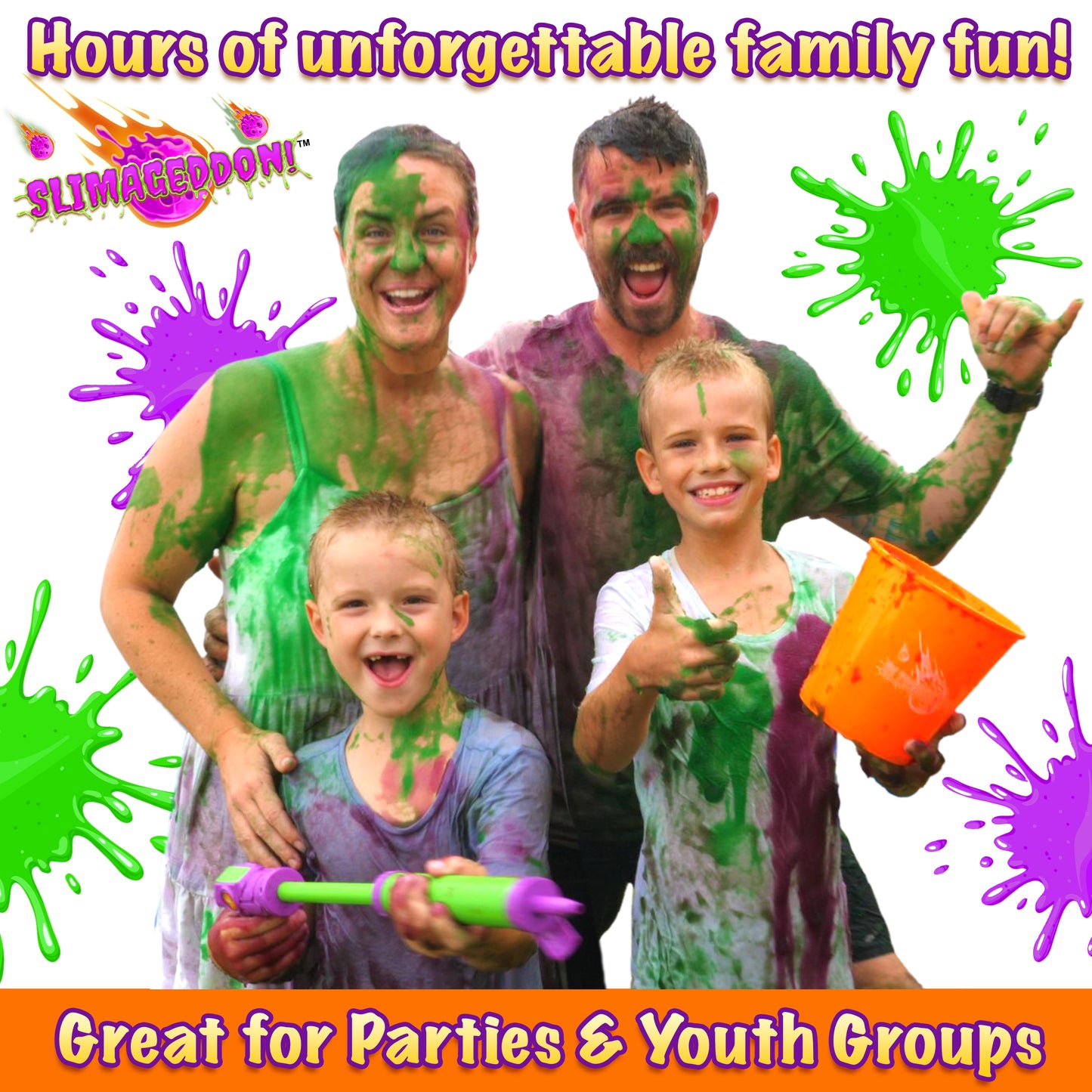 What is a Slimageddon Slime Party Pack?

The aim of Slimageddon™ is to survive as long as possible without being slimed!
Take on more than 20 slime games and slime challenges full of hilarious action and slimy penalties. 
Slimageddon is great for parties, of all sizes with fun slime themed games like Who Stepped in Goo, Slime and Spoon Race, Slime Wars, Pin the Slime on the Monster, Slime Pong, Slime Balloon Catching and More!
Hilarious slime party games that are hours of fun for the kids AND the adults!

What is included in Slimageddon?

This awesome slime party pack comes with instructions and accessories for all of the slime games.
Each of the 12 Slime Buckets has lines on it for easy measuring when making Instant Slime. The buckets can hold up to 3 quarts (3 Liters) of Slime.
The 2 Slime Guns are designed to shoot slime & easily fill the 60 water balloons with slime!
Slimageddon also includes slime dice, a blindfold and an easy to use magnetic slime grenade toy.
Slimageddon Testimonials
We had the best Slime Party!

"This was sooo much fun! We started with Who stepped in Goo, then played Slime Grenade Dice Races and finished with a Slime Blaster Battle. The kids love it!  Luckily it comes with a lot of slime, so we still have plenty of slime for more games." Tiffany

We loved it!

"I played this with my nieces and nephews. Pretty sure I am easily their favorite uncle now. They had the time of their life! One of my nephews did a show and tell presentation at school the next week about the slime games he played on the weekend. I hear he got an A+ for enthusiasm! They can't wait to play again." Jake

Kids sure love slime!

"I watched the unboxing video for this game with my son. When he danced around the room with excitement we decided to buy a set for his birthday. Hands down the best present we have ever purchased. I've never seen him so happy as when he is playing slime games and watching people get slimed." Trent
Party GOAT Instant Slime!
Party GOAT Slime is non toxic, biodegradable, hypoallergenic, gluten free, pet friendly and safe for kids. Unlike other slime products it does not contain borax or other harmful chemicals. Although not designed for consumption, swallowing mixed Party GOAT slime is not expected to cause any harmful reactions.
Party GOAT Slime is non staining, non sticky and easy to clean. Watch the video below for an easy clean up demonstration.
Click here for a copy of the Slime MSDS.
Slime Birthday Party Activities
Another great party idea for sensory play is to set up a slime making station. This is where kids will make the thick, gooey, and stretchy type of putty slime.
Set out a table covered in buckets, containers, putty slime making ingredients, different colored paints or food coloring, and small charms that can be mixed in. Let the kids get creative making and mixing slime in a range of colors and adding their favorite objects in. You can watch this video that shows one way to make slime.
There are some great putty slime making packages that can be purchased that include everything you need. Including a range of charms to mix in (e.g unicorns, beads, gems, glitter)
More Slime Party Games!
Using Party GOAT® Instant slime you can make huge quantities of runny slime for slime color battles (similar to a water fight but with super colorful slime). This slime is ideal for kid's to do battle with. The slime can be sucked up and sprayed out of water blasters or poured into water balloons to make slime bombs!
Party GOAT instant slime comes in 6 vibrant colors - Green, Pink, Yellow, Blue, Purple & Orange. Each team can have their own color with the winning team being determined by how much of their slime they manage to land on their opponents.  As shown in the video below, slime battles and other slime games are fun for kid's, teenagers & adults!
Click here for our detailed guide on Slime Color Wars.
Food Ideas for a Slime Party
Wondering what food to serve at a slime party? We suggest you stick with the theme and try to create slimy or stretchy foods for your slime party and use a lot of green dye.
The pictures from our lovely customer Emily show her Green Mac n Cheese, Green Popcorn, Slime topped Cupcakes, Green Jelly Donuts, Slime Colored Drinks and even Ranch Dressing Slime.
You could also melt marshmallows or gummy candies in the microwave to turn them into a melted yet delicious form of sticky slime.
Put stretchy caramel treats and slippery jello on the slime party dessert table. Make bright green icing and create runny, dripping, splatter patterns on cakes and muffins. Serve rainbow colored string cheese toasted sandwiches as shown in the video.  
Slime Party Favors
At the end of the party you can supply each child with a party favor bag to take home. Give them each small plastic tubs so they can take home their own creation. Or buy small pre-made slime tubs as seen below.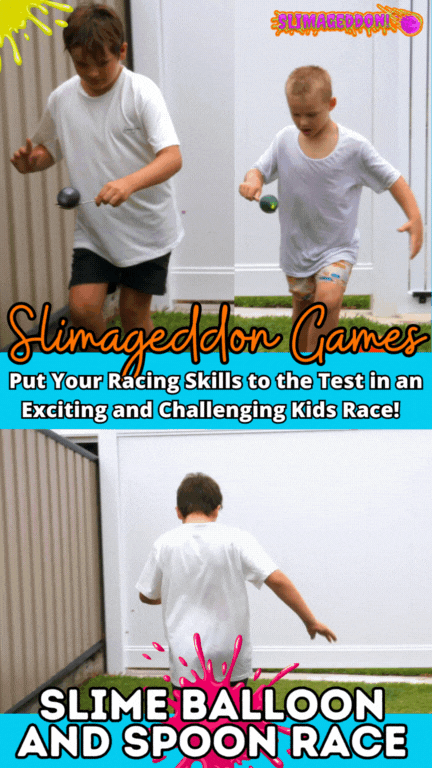 What's a party without decorations? Don't forget to look for slime themed decorations or make your own by cutting splatter patters out of bright green paper.
Slime themed parties are becoming more popular every year (as more kids realize how fun they are) so there are plenty of slime decorations available online. We have listed some below.
A slime party should have lots of decorations that contain colorful splatter patterns and runny, slimy looking text. 
Slime Party Invitations
Slime invitations should be written with runny, slimy looking text and lots of slime splashes on the page. Keep them colorful.
Also as slime parties tend to get a little messy, don't forget to tell your guests on the slime invitation, to bring a clean change of clothes!
Some examples of slime invitations are listed below.
More Fun Slimy Games for Slime Parties
Slime Game Show and Target Games!
Remember the old Nickelodeon TV game shows where contestants would answer questions or complete challenges, with the loser at the end of each round often getting a huge bucket of slime dumped on their heads? These slime game shows were hugely popular because kid's love watching someone get slimed. Now they can join in the action! Watch the videos below to learn how to easily set up a Slime Game Show in your own backyard. A quick set up for super exciting slime races! Or create a carnival style target game using Instant Slime! These ridiculous games are so much fun to play at a slime party.
Can I make Instant Slime the day before the party?
Making Instant Slime is very quick and easy. Adding and mixing the slime powder only takes a minute. The thing that takes time is filling the tubs or pools with water (especially if you have low water pressure). If you want to be prepared we usually recommend filling up the water the day before. Then on the morning of the event simply add the slime powder to get your desired consistency.
If you want to add the slime powder the day before this is fine, however it may not be quite as thick the following day. We suggest you reserve a small amount of powder in case it needs to be thickened up again before your event. Make sure that the tubs are covered to prevent evaporation and also dirt and leaves from blowing in.
More awesome slime party activities!
Slime Party Games

Race to find objects in the Slime!
Choosing a selection results in a full page refresh.
Opens in a new window.