Top 10 Party Themes for Adults
What are the best themes for parties? How do you pick a party theme? In general, when thinking about parties and their themes, we focus on children and on subjects that interest them, right? But what about adults, aren't they also entitled to fun and lively themed parties? Of course they are! So here are ten creative party themes for adults!
Have you ever imagined having a party in the middle of the walk of fame? But how do you host a Hollywood themed party? To throw a party with the theme "Hollywood", it is necessary to make an effort so that all your guests have a glamorous experience. The goal is to recreate the atmosphere of a major Hollywood event. Encourage your friends to join in the fun and dress accordingly! What do you wear to a Hollywood themed party? Guests can dress up as movies characters, movie stars, or just wear fancy clothes, it doesn't really matter, as long as everyone is having fun!

Glow in the Dark Themed Party
Have you ever thought about having a party with friends surrounded by special UV black lights that makes everything Glow? Dress up with some neon clothing, decorate your party with Neon Decorations, put on some great music and get ready to Glow! Click here for a few tips on What to Wear to a Glow Party and here for a more detailed guide on How to do a glow in the dark party! Black lights are essential for an epic glow in the dark party. You can buy the best black lights for parties below.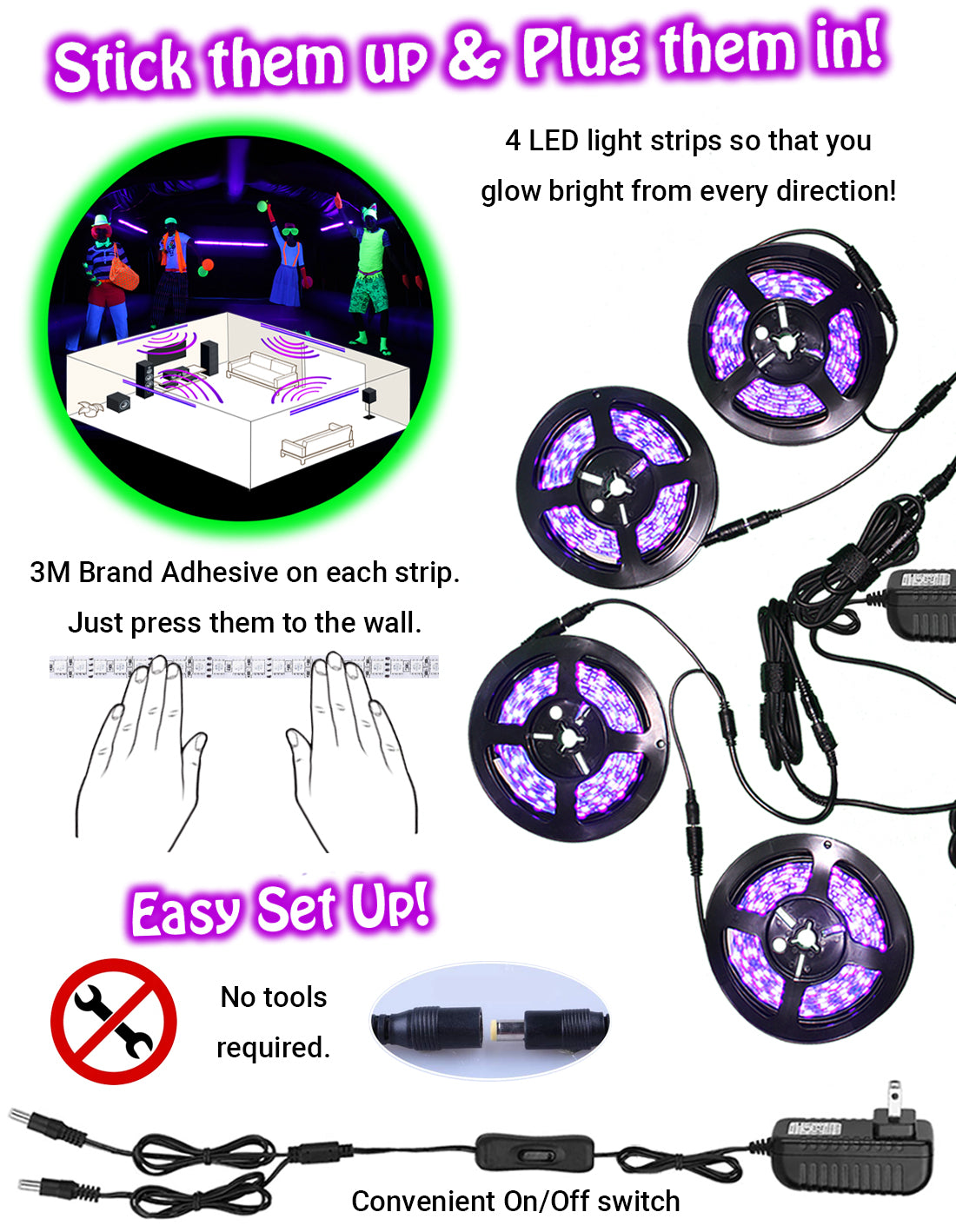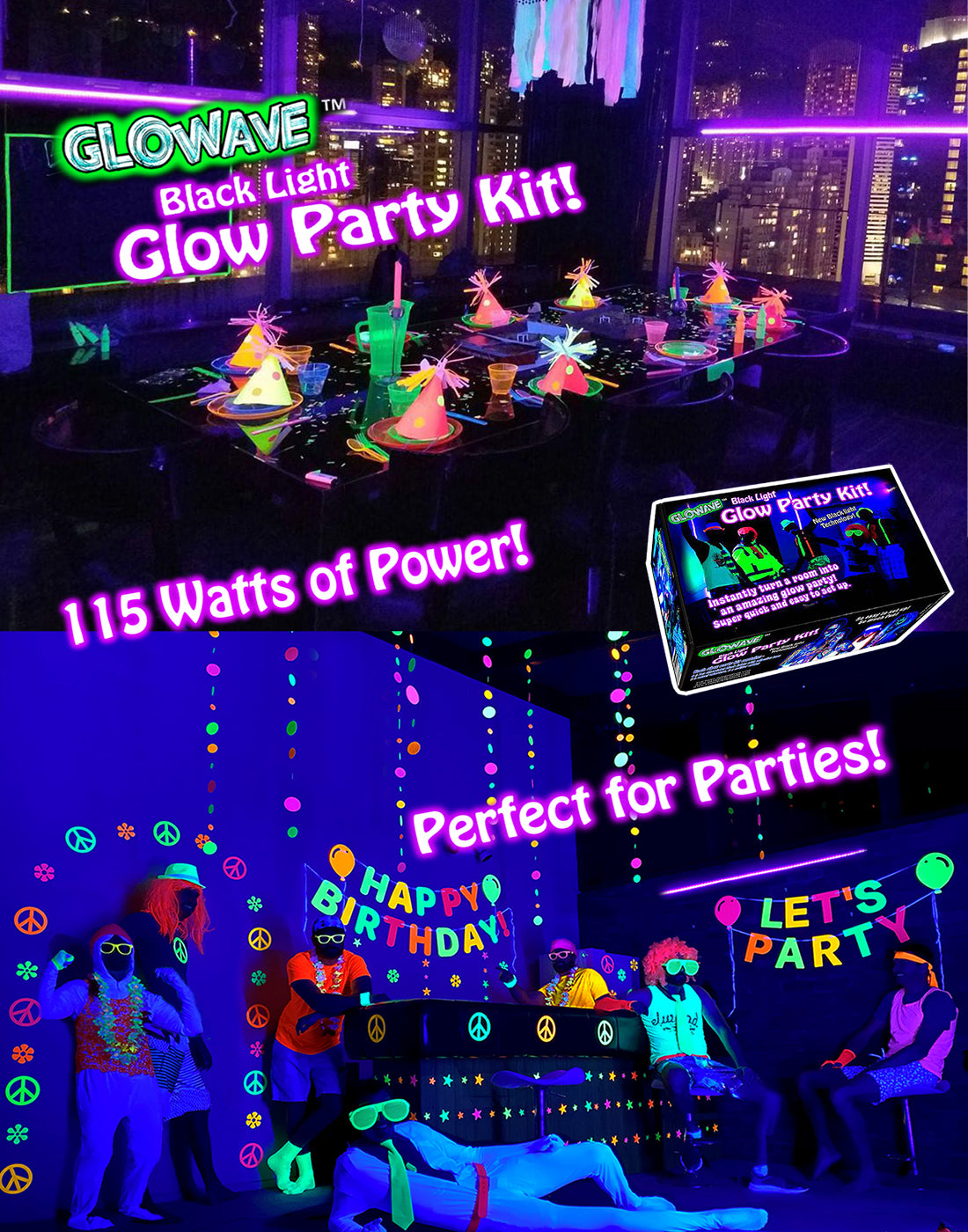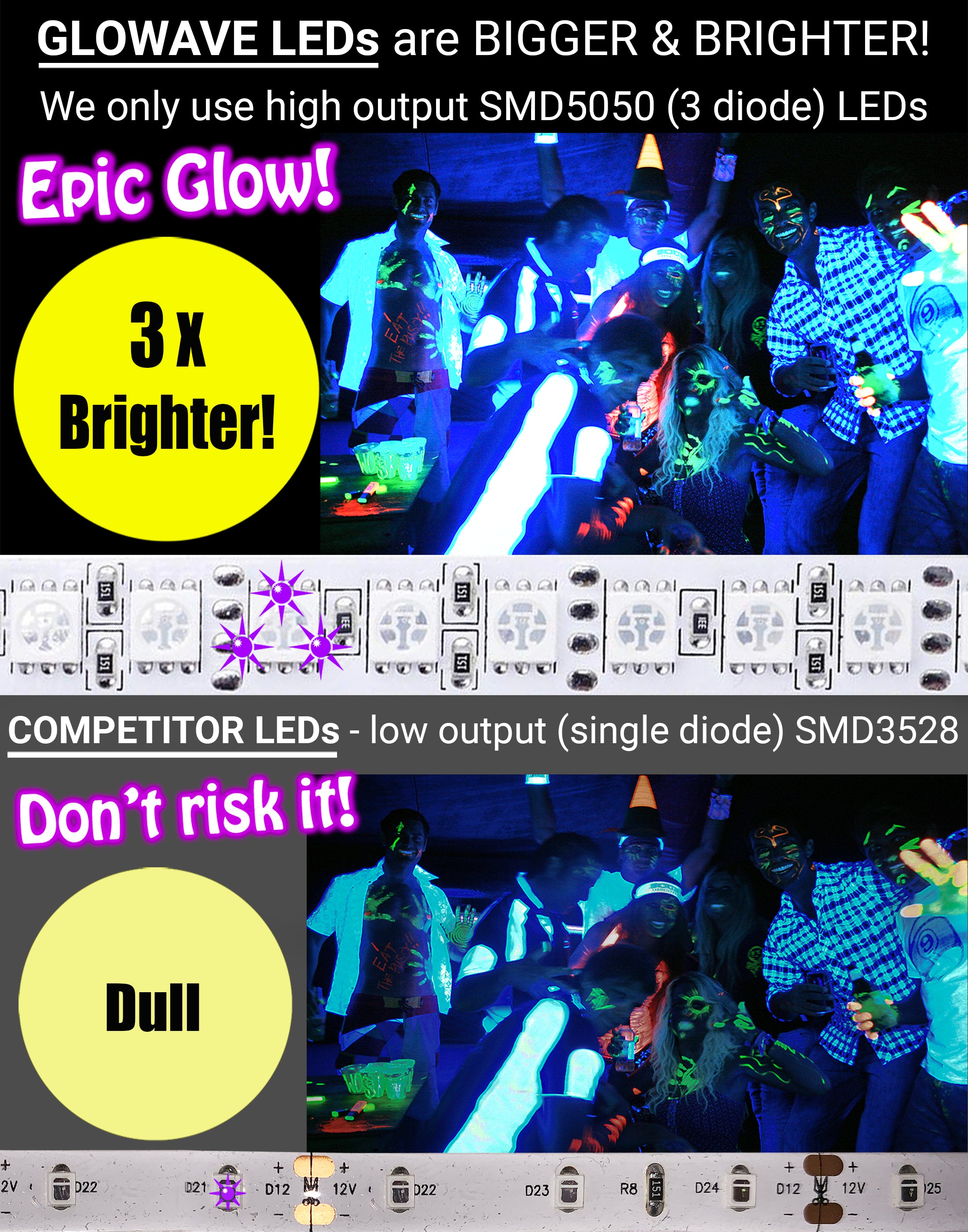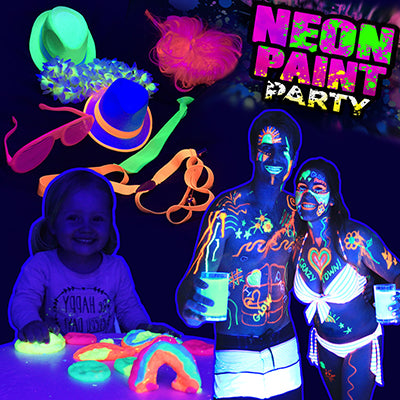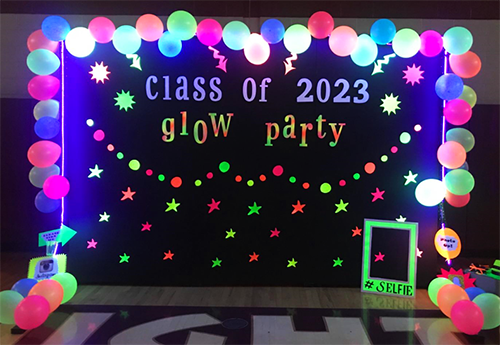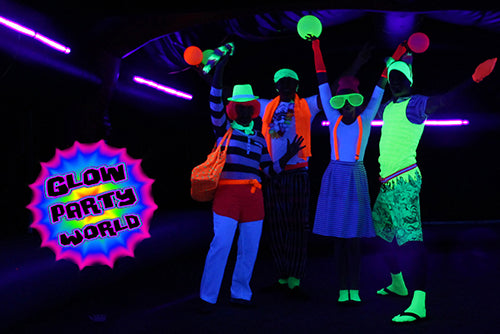 Neon Party decorations for glow parties, glow in the dark parties, black light parties and birthday parties.
View Details
Rock'n Roll themed party



Speaking of special lighting and dress up, how about you honor the guitar gods with a rock'n roll themed party? Take your black clothes out of the closet, your leather boots too, put on some makeup and get ready to Rock'n Roll all night with this powerful vibe! More of a disco fan? Click here for details on how to do a disco party!
ALOHA! Sun, sea, breeze... What else would you wish for? You can bring all this atmosphere of peace, love and health to your party with a themed celebration that highlights Hawaii.
What do you need for a Hawaiian themed party? Well, you can start sending invitations with tropical theme encouraging your guest to wear Hawaiian-themed clothes, then you can start the decoration with lots of fruits, flowers, light colors and Hawaiian songs (Somewhere over the Rainbow is a must!).
Mexican Themed Party



Mexico is a beautiful and passionate country. In addition to the natural beauty, Mexico draws attention from all around the world for the richness of the culture and for the happiness of the Mexican people, so having a Mexican themed party is guaranteed to be hours of fun.

How do you decorate for a Mexican party?
Colors, many colors, a Mexican party asks for a colorful decoration with the main colors being green and red.

Another great thing of having a Mexican themed party is the food, Mexican food it's tasty and super easy to make. It is hard to find someone who doesn't love nachos, burritos and tacos! Don't forget about the classic drinks, Margaritas and Tequila!
Bachelor Themed Party



And who said that someone has to get married so that friends get together for crazy fun and shenanigans? We can have a Bachelor or Bachelorette themed party anytime! Whether in a sensual, funny or crazy mood, all that matters is having fun with your closest girl or guy friends, in this classic theme. Just remember: if you drink, don't end up married!

Costume Party



Monsters, heroes, gods, artists ... each of these would throw a party in itself, wouldn't they? But what if you mix them all together, what is it? A great costume party! There's no rule for a costume party, as long as everyone is dressed up the fun will be there!

And what are the best costume ideas for a costume party? the rule here is to be creative, you can dress up like a movie character that you really like or some mythological creature, also keep in mind that group costume are always a success, so call your friends and get ready for a Costume Contest!

Arabian Nights Themed Party
The Arabian culture is present mainly in the Middle East and North Africa. Countries such as Saudi Arabia, Morocco, Egypt, the United Arab Emirates, among others, are known worldwide for a series of rich and classic characteristics. They have a very particular culture that are faithfully portrayed in their celebrations, the dances alongside with a lot of local music are always very lively. There is also a lot of food, with typical and charming dishes. So, if you are going to have an Arabian Nights themed party, you need to get into the mood and provide an exotic mix of sensuality and mystery worthy of lasting One Thousand and One Nights!
Mafia Themed Party
"Now I'm gonna make you an offer that you can't refuse" who doesn't remember movies like The Godfather, with those amazing fancy outfits and glamorous atmosphere? Yes we are talking about honoring the sumptuous universe of mafias and gangsters. Get your hat and suit lined up and get ready for this very elegant and special themed party.
Medieval Themed Party
Oh the Medieval times, a time full of knights, princesses, kings, dragons, wizards and castles. In addition to that, there are several films with stories that take place in the medieval period, which ends up further influencing the choice of the medieval period for a party theme.

How to decorate a medieval party? The elements that characterize the medieval period are the shield, armor, sword, crowns, chalices, coats of arms. So, you already know: if you are going to create a medieval party, these items are must-haves in the decoration! Whether in souvenirs, on the candy table or in the decor of the space where the party will take place. To prepare the guests for the mood of the event, you could prepare the invitation in the form of handwritten parchment, a charm that matches perfectly with the theme!

How to throw a medieval feast? Well drink wise, wine, ales, mead and beer is a must throughout your party. You can start the feast with a soup or broth, tomato soup is often the favorite, then you can bring greens or veggies with the first course and provide, breads and cheese. After the first course comes the main course which can be pies or some roasted meat. Finnish the feast with some sweet treats such as dried fruits or tarts.

Don't forget about the music, select some good bard and tavern songs to make your guest feel the complete medieval experience!

What's your favorite party theme?
Let us know in the comments below! Is it on our list or is it something else?
Need some ideas of what to play in your parties?
Click here for more details on the Best Dance Party Games for Adults
Click here for 8 Hilarious Indoors Party Games
Click here for Black Light Games for Adults
Click here for Kids Black Light Games
STAY IN TOUCH
Subscribe for news and special offers!