Regular price
$35.00 USD
Sale price
$24.99 USD
Unit price
per
Sale
Sold out
UNFORGETTABLE FUN: The Instant Slime Expansion pack includes 2 new slime colors - purple & orange slime. Slime can be dumped on heads, sprayed from water guns, or added to slime pools for hilarious slime games.
OPTIONAL EXTRA: Buy this slime kit, plus our original Instant Slime Battle Pack for a total of 6 slime colors. Perfect for epic color wars, color parties, & slime color runs! Please note: This package contains slime powder only. Other colors & slime blaster guns are sold separately.
Share
View full details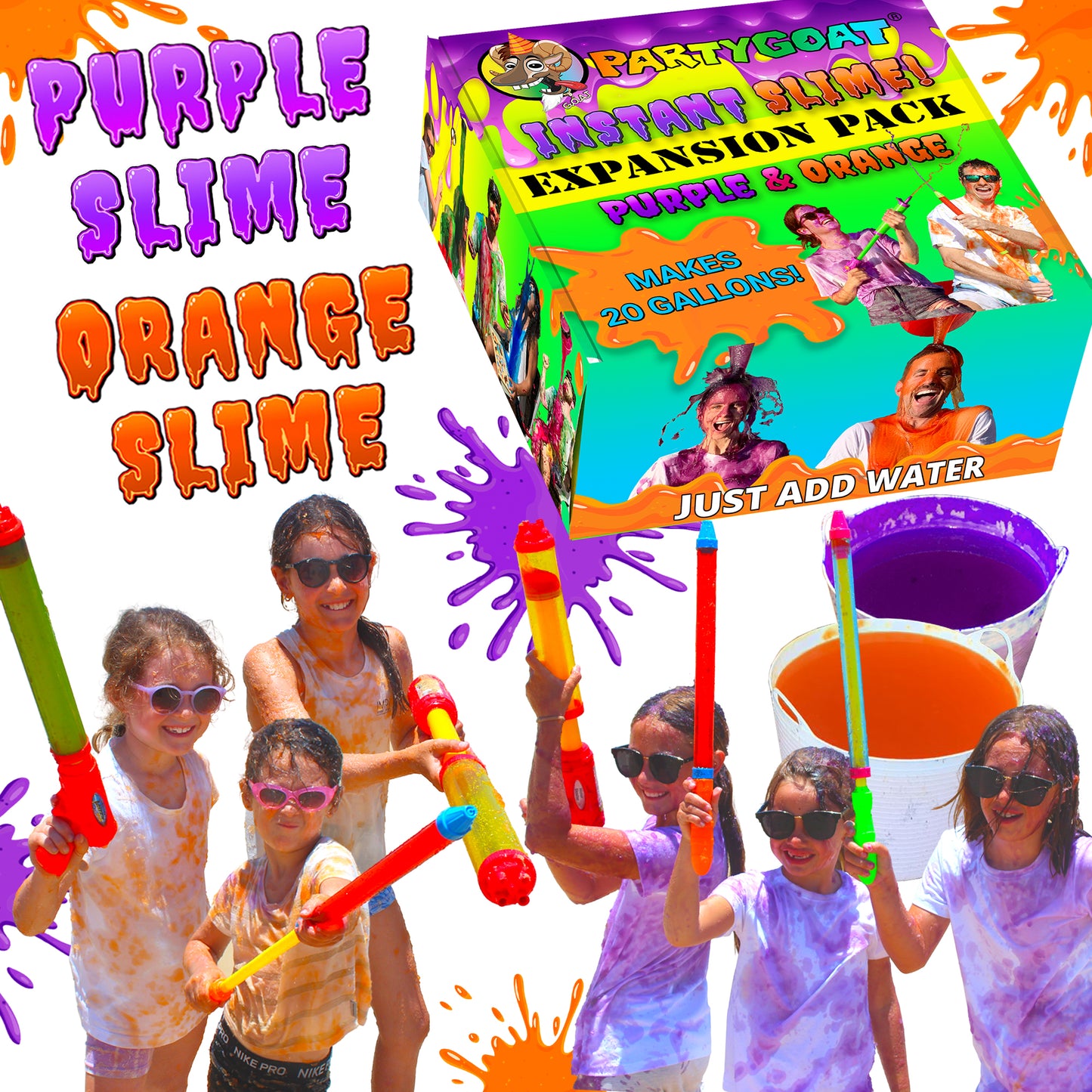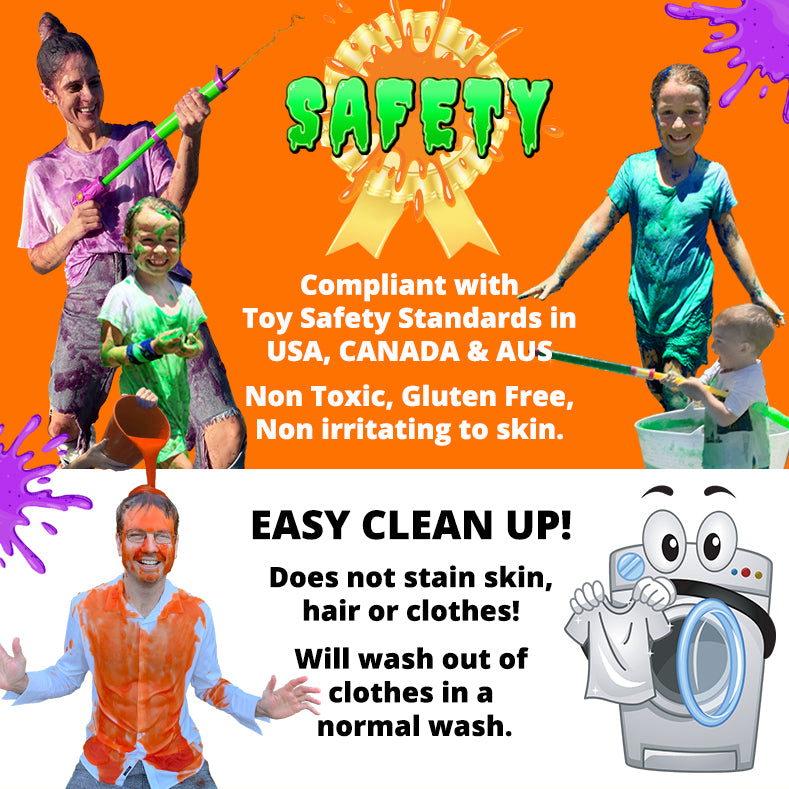 EASY TO MIX & USE: Just add water & give it a stir, to make a huge 10 gallons of purple & 10 gallons of Orange Slime in a matter of seconds! Simply adjust the amount of water used to reach your desired consistency. Add less water for a thick gloopy slime that is great for special effects & slime dump games, or more water for a runny liquid slime that will shoot out of most suck & spray style water blasters.
SAFE TO USE: Party GOAT slime mix is safe for kids, adults, pets & animals. Our colored slime ingredients have passed toy safety tests for the USA, Canada & Australia. The unique non toxic slime formula is non irritating to the skin & not expected to cause any adverse effects to the environment, wildlife or aquatic life. However you use Party GOAT slime, you will be sure to MAKE MEMORIES that last a lifetime!
GREAT FOR PARTIES, FUNDRAISERS & EVENTS: Instant Slime is an exciting alternative to color run powder & hilarious fun for slime bucket fundraising (raise money to slime your principal or boss). Fill water balloons & water guns with slime for a safer & easier to clean alternative to throwable paintballs, paint guns & color paint wars. Party GOAT slime mix works perfectly in reusable water balloons, dunk tanks & splash towers. A must have for a slime birthday party for kids aged 6-8, 8-12 or older
EASY CLEAN UP: Party GOAT Instant Slime is non staining to clothes, hair & skin. Clothes will wash clean in a normal washing machine cycle. Small amounts of slime will simply hose into the grass & not harm the lawn. Larger piles of slime can be scooped up & added to garden beds where it will naturally break down over time. Add salt to Party GOAT bulk slime to quickly transform it back into water for easy draining from a slime pool or slime bath. Forget your worries & focus on the fun!
Perfect for fundraising!
We used this for a school slime fun run. At the end of the day we slimed the teachers. It was a hoot. We will make this a yearly event from now on.
used for slime wars at our summer camp
We got the slime powders 20 gal for our summer camp and we had an absolute blast. The kids loved it and clean up was easy. Bang for your buck, enough for about 40-50 people.
So much fun!
Bought this for my son's birthday party. The kids enjoyed playing with it and it was so much fun. It washed off well with the water hose and didn't stain!
color war
It didn't dissolve like the video showed. Didn't have bright colors when used.